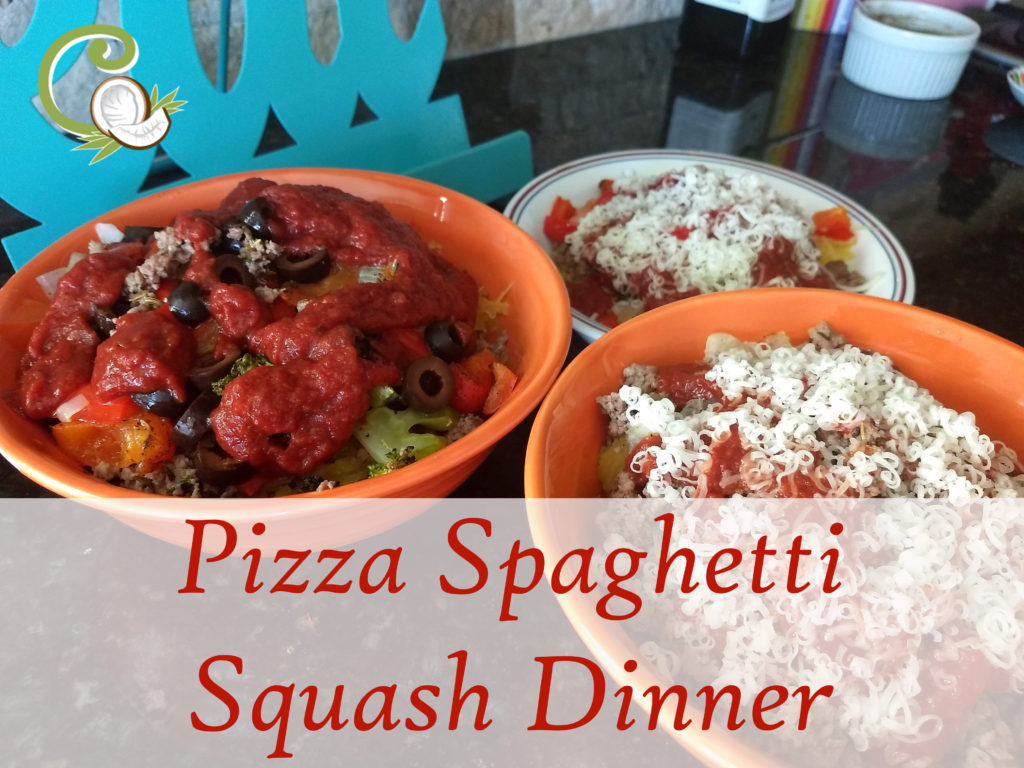 My love for spaghetti squash is no secret. I recently wrote a post about how much I love spaghetti squash, how to make it, and how to use it (click here to read the post).
But here's the thing you have to understand. Spaghetti squash is delicious because it's spaghetti squash, not because it has the taste and texture of thick, gluten-filled spaghetti noodles you can buy in a pack and boil. You can't slurp a spaghetti squash "noodle"  to romantic music and have it end in a kisss (even if you are a cartoon dog). You can't twirl spaghetti squash around a fork and you don't throw spaghetti squash at a wall to check if it's done. It's not a replacement. This is something I hear from clients all the time. "It doesn't feel like spaghetti. It tastes different from spaghetti." Well… it's a vegetable. It's not spaghetti.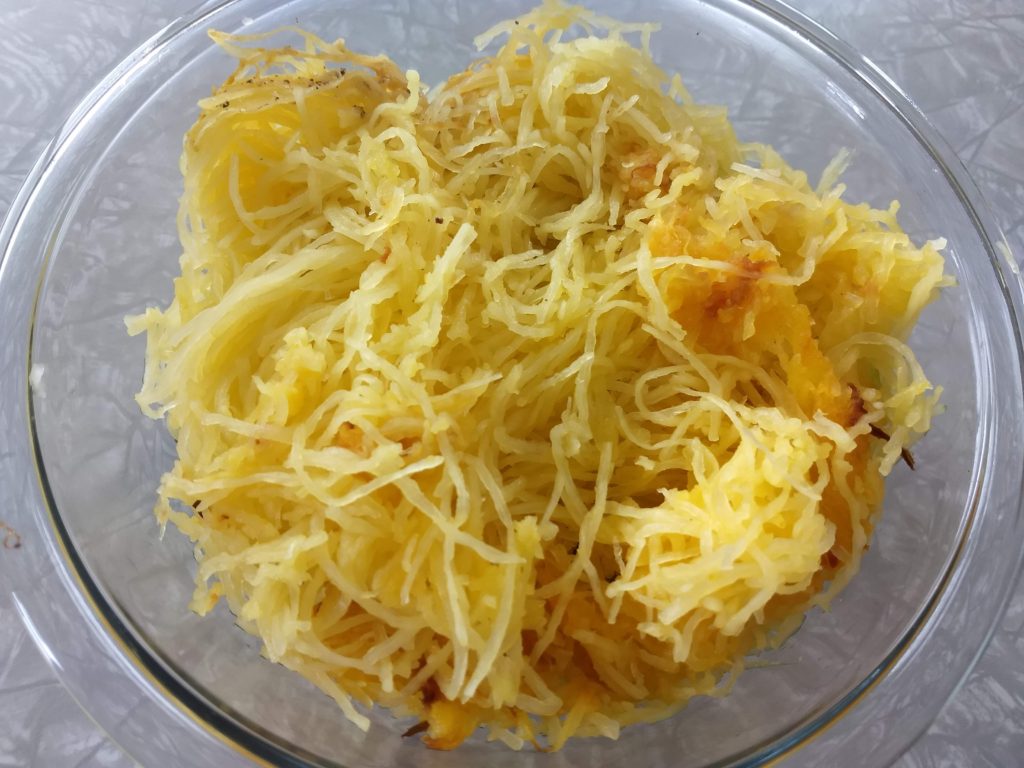 I totally understand how people would make this assumption, since so many recipes claim, "It tastes just like spaghetti!" And, "Eat healthy without giving up your favorite foods." It's jut not true. Spaghetti squash is delicious and helps me get all my "spaghetti fixes" in because it's a great way to deliver so many of the flavors we're used to associating with pasta in a much healthier way, but it is its own food.
Eating healthy does require change, including a change in our taste buds. My dark chocolate doesn't taste like a maple-glazed donut; but it's a much healthier way to get a sweet fix in. The point is (yes my rambling does have a point), if you decide to change the way you eat, expect to… change the way you eat. The flavors, textures and ingredients will be very different. That doesn't mean they won't be delicous. This is a chance to discover new foods and develop new tastes.
That said, I miss pizza. I know if I eat gluten and cheese my skin will break out for a month, my tummy will rumble (that's the G-rated version) and my joints will hurt. It's not worth it. But I love pizza! So I decided to make a new kind of pizza using my beloved spaghetti squash.
The whole family was happy. And since this is a dish you layer in each individual bowl, everyone had what they wanted. My husband and daughter had cheese, and I had olives. We all had different veggies and we were all satisfied.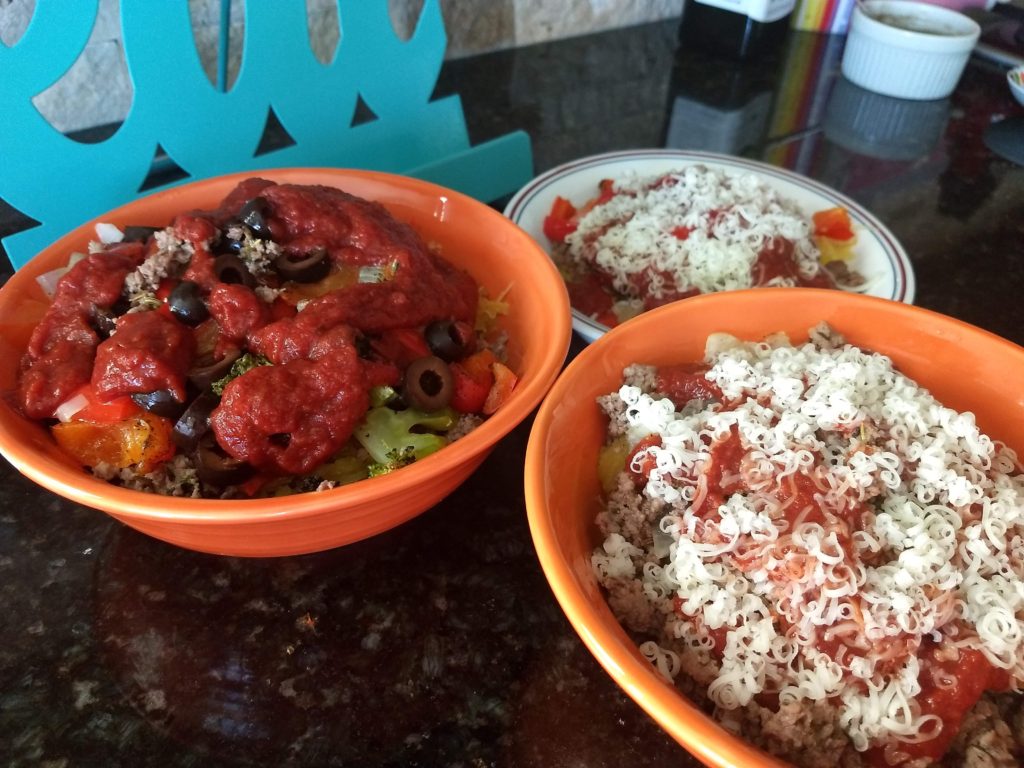 Start with a bowl of spaghetti squash. To find out how to best cook spaghetti squash, check out my spaghetti squash blog post.
Then top it with ground pork seasoned with classic pizza seasonings. If you're not a fan of pork, feel free to use chicken, beef or even just diced ham or pepperoni. We are making pizza after all.
After this, everyone can add their favorite pizza ingredients. I added roasted veggies to mine because I LOVE veggies on pizza. This is a part you can totally customize. I used broccoli, bell pepper, and onion. I LOVE broccoli on pizza. This was an option at Mod Pizza and I was hooked. If that's not your jam, use a different veggie or leave it out.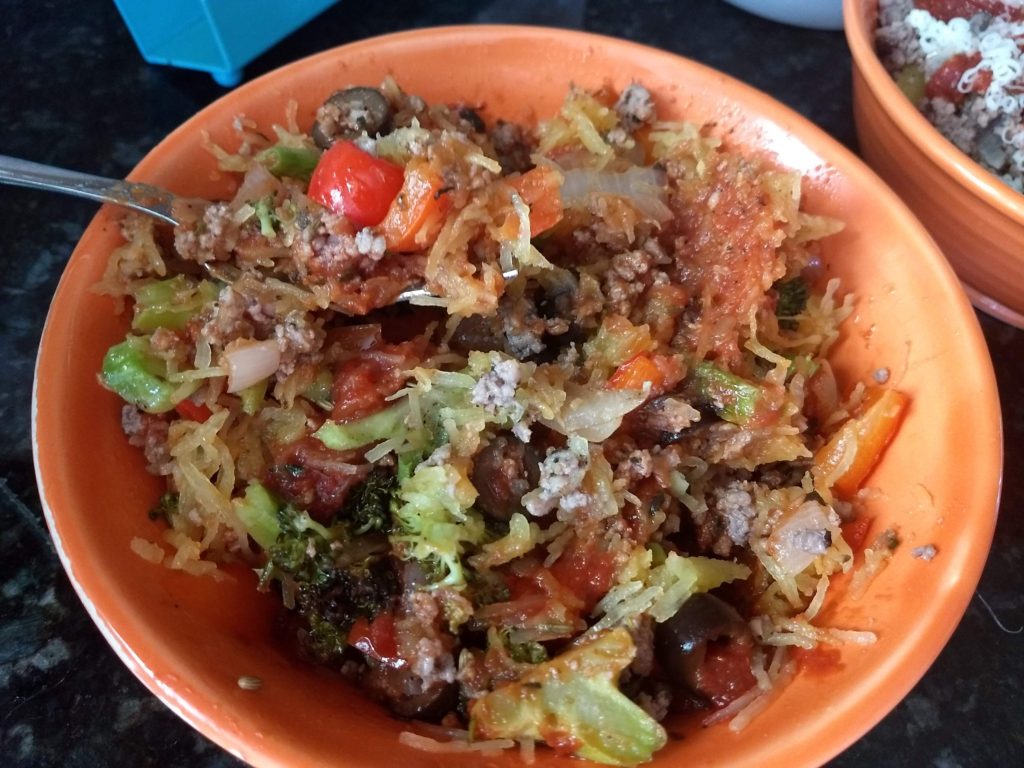 Then come the olives, the warmed sauce and the optional cheese. I left the cheese off and was still very satisfied.
So enjoy your "pizza." It won't taste exactly like pizza. It won't feel exactly like pizza. But it will be a delicious, healthy dinner that even picky kids will enjoy.