Whenever my daughter and I are having one of those rough days where we butt heads and can't agree on anything, we need something to help us unwind and have fun together. For us, that's an episode of Pioneer Woman on the Food Network. It doesn't always stop the fighting, but for half an hour, we agree on something. Sometimes, that's priceless.
A few weeks ago, we watched her make Mulligatawny soup. It looked amazing, but had a few ingredients I'm not okay with including in a week night dinner. I came up with a healthy variation which our whole family loves.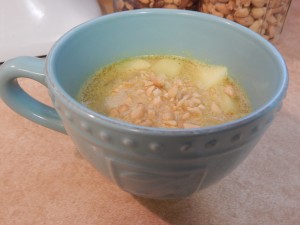 The entire dish comes together in one pan which is my kind of meal. It cooks really fast but is packed full of flavor.
Start by cooking the chicken. Then add the onion and garlic and cook it all together.
Add the curry, broth and coconut milk and cook just to heat it up. Then add the chopped apple and cook for another five minutes. This will cook the apple but keep it from getting mushy.
Top each serving with some chopped peanuts. This adds more great flavor and crunch.
I love this dish because it's a great,warm soup for winter but the freshness from the apple makes it great for any time of year.