No matter where go you, there is no shortage of Mexican restaurants. Because what's not to love? Sugar-sweetened meat, loads of melted cheese, processed-flour tortillas. Good news! There is a way to still enjoy delicious Mexican food without eating a ton of processed food, sugar and bad-for-you oils. And it won't take all day.
This is a dump-in-the-slow-cooker recipe, so it takes very few steps and comes out moist and flavorful. When my husband was eating this he kept saying, "There's just something about this." That's always a good sign.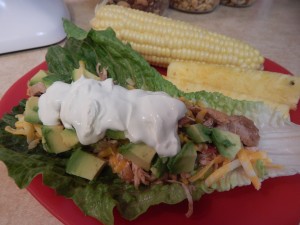 Start with the chicken breasts or thighs in a slow cooker. I personally like thighs because they come out much more moist. But if you prefer breasts, go right ahead.
Top with the taco seasoning, lime juice and zest, and chicken broth. No need to stir. Just turn on the slow cooker on high for four hours.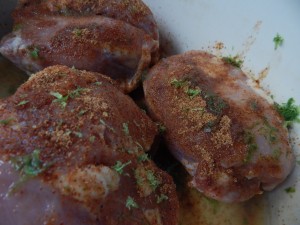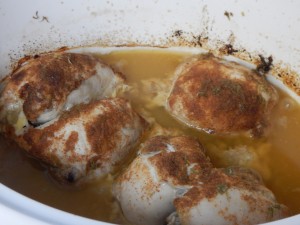 After four hours, shred the chicken and add it back to the slow cooker. Stir in the salsa and let it heat through for another half hour.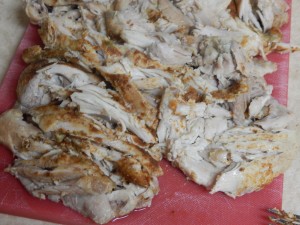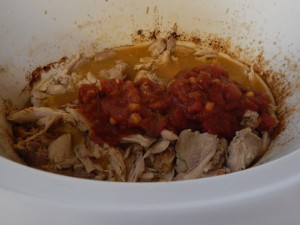 Now serve it in lettuce wraps. If you really hate lettuce wraps, substitute a whole-grain tortilla. I always use green-leaf lettuce but you can use romaine or iceberg. Top it with sour cream, guacamole and shredded cheese.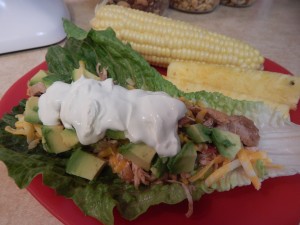 Add Chicken pieces to the bottom of a slow cooker

Top with taco seasoning, lime juice and zest, and chicken broth

Cook on high for four hours

Shred chicken and stir in salsa

Cook with lid off for 30 minutes