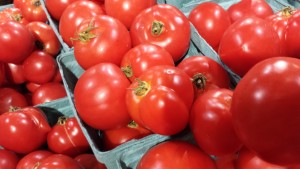 Prepare yourselves for a rant. As I've mentioned one, two or a million times, I get so angry when companies add sugar to things that don't need sugar. Fruit is my biggest pet peeve (and why do we need to add sugar to nature's sugar?), but sauces drive me crazy. A few weeks ago, I was making spaghetti for my family. I tried to buy some marinara sauce only to find they all had added sugar. Most have 5-7 grams of sugar per serving. As I was slamming jars back on teh shelves of the grocery store, I said to myself, (or possibly aloud. Going shopping with kids gives you a good excuse to talk to yourself while making it look like you're talking to your kids) "I'll make my own marinara sauce!" And I did. But my marinara sauce has less than two grams of sugar per serving. That's just my way of sticking it to the man; or at least, sticking it to Ragu.

Heat Avocado oil in a large, deep skillet on medium heat.

Cook onion until soft. Add garlic and cook another minute.

Add crushed tomatoes, balsamic vinegar, oregano and basil.

Let simmer for 20 minutes.