My husband used to ask me to buy pre-packaged oatmeal packets for his breakfast. I thought I was being such a good wife, helping my husband have a healthy breakfast. Then one day I decided to read the ingredients. Yikes. Not only does each packet have 12 grams of sugar, but the second ingredient on the list is sugar which is followed by artificial flavoring and several ingredients I can't even pronounce. This breakfast was not doing my husband any favors.
I quickly realized I could easily make him his own oatmeal packets for much less money and with a much more impressive ingredient list. I can throw together 20 of these packets in less than 5 minutes and my husband can have a healthy breakfast. I also make a smaller version for my 5-year-old daughter.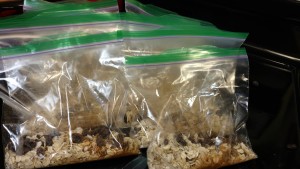 Open 20 Ziplock sandwich bags (or however many packets you want to make)
Dump in 1/3 C instant oats (I use 1/4 C for my daughter)
Add 2 T raisins
Add 1 t cinnamon
That's it! To make a bowl of oatmeal, just empty the packet into a microwave safe bowl
Add in 2/3 C water. (1/2 C water for smaller packs. The ratio is 1:2, oats:water)
Microwave for 2 1/2 minutes.
Stir in some milk and a drizzle of honey.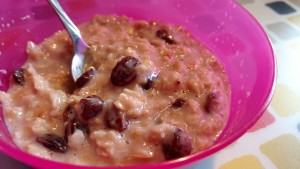 This is a picture of my daughter's oatmeal. I don't generally make my husband breakfast in a hot-pink bowl. Speaking of which, I always heat this in a ceramic bowl and then put it in a different bowl. You want the bowl to be big enough to avoid a boil-over. I use a bigger Corelle bowl. These instant oatmeal packets are great for at home, to take to work, or even to take on vacation.