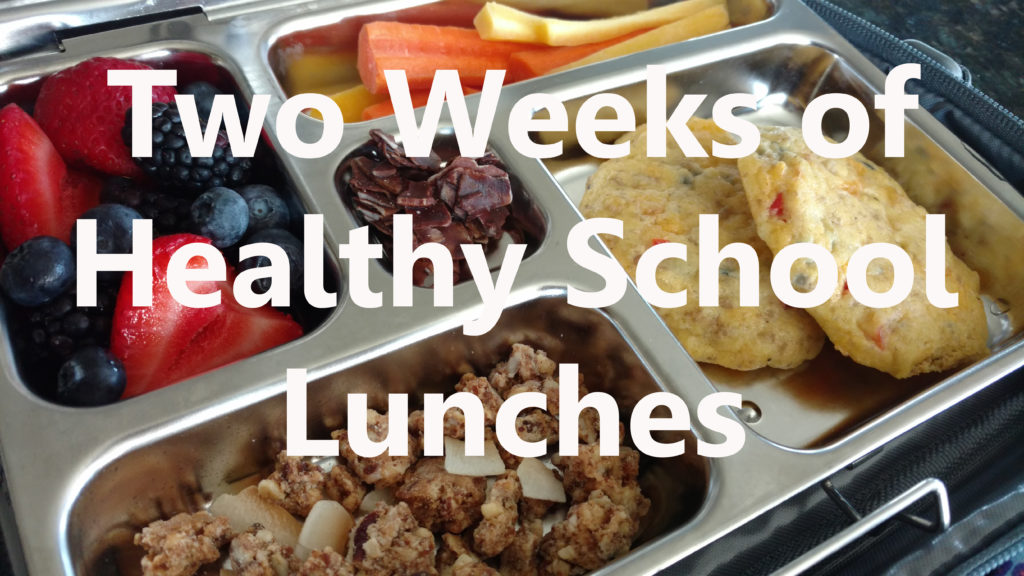 School is upon us!! This means spelling tests, science fairs and poop jokes at recess. This year I invested in Planet Box Lunchboxes for the kids. I almost had to sell an internal organ to afford it, but decided it was worth it. It's a great way to portion out lunches and also removes plastics from the equation which is good for health and the earth. In the end, I'm glad we did it.
So now that I have the Ferrari of lunch boxes, I feel the need to send lunches to school that could be featured in Good Housekeeping. Not really. I just want to send my kids to school with healthy lunches, give them variety and make sure their lunches are yummy enough that they don't go to a dark corner of the playground and trade their Brussels sprouts for Cheetos. I'm trying to keep them off the hard stuff. But packing lunches 5-days a week, it's easy to get burned out and run out of ideas. By Friday I kind of just want to fill each section with cheerios and send them a milk chug and a spoon. So to make your life and mind easier, here are two weeks worth of healthy, delicious school lunches you can easily pack for your kiddos. Feel free to change up fruits and veggies and mix and match.
One:
Corn dog muffins, grapes, cucumber slices, milk and a Home Free vanilla cookie. I always send a chug of Organic Valley whole milk with every lunch. I only included it in this first picture. For the cornbread muffins, just use your favorite cornbread recipe and add a hot dog slice. I used this cornbread recipe from The Healthy Family and Home. I used a gluten-free flour since that works better for my daughter. Our favorite Hot Dogs are the uncured frankfurters from Teton Waters Ranch.  Just bake them at the temperature listed for the muffins, but check them after 8 minutes. I think we baked ours for a total of 12 minutes.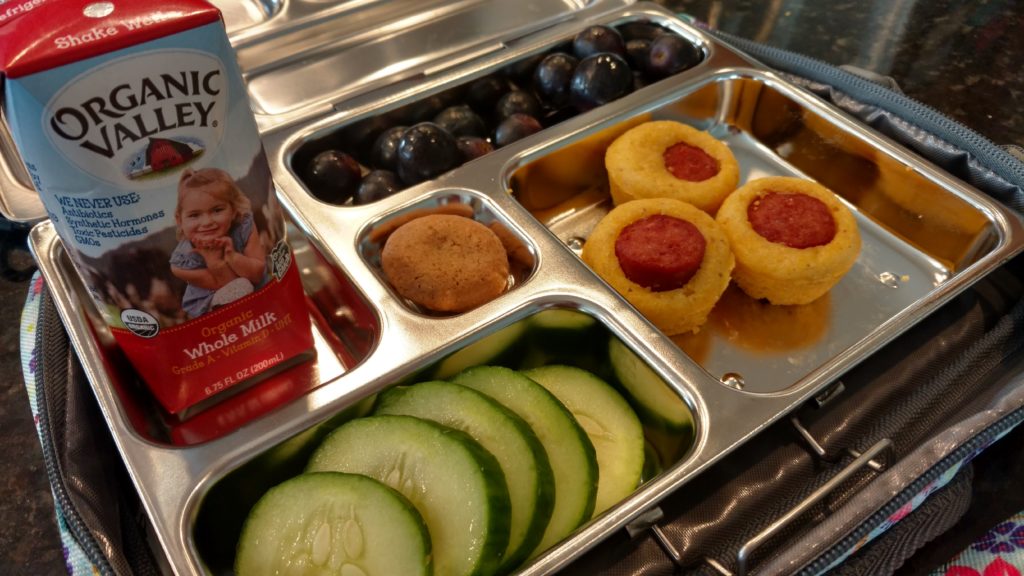 Two:
Ham and cheese slices, strawberries, celery and ranch dressing, raisins (my daughter's addition) and a Home Free Vanilla Cookie. Our ham slices are Maple Leaf uncured Canadian bacon. We bought a big pack from Costco and froze one package.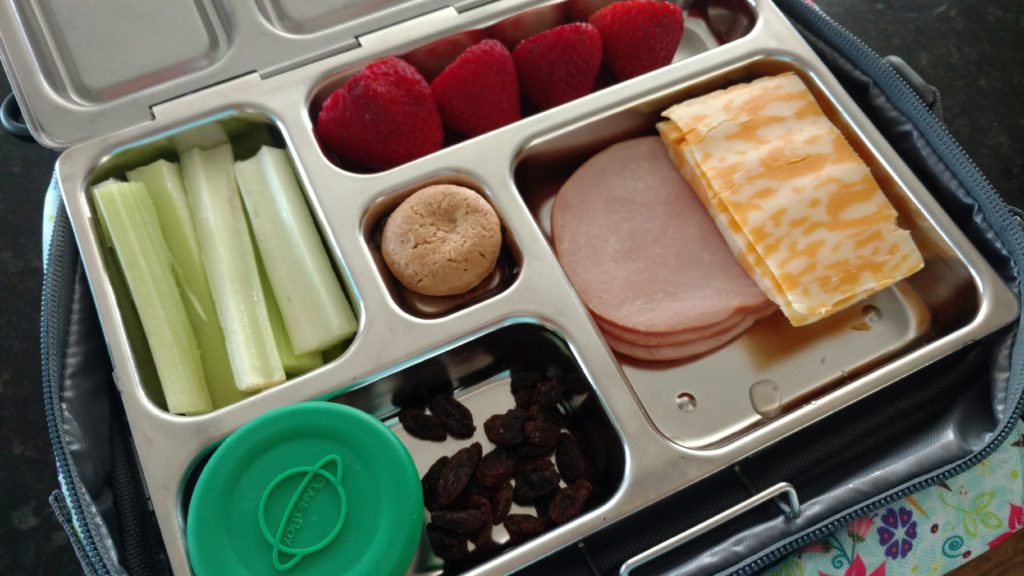 Three:
Ham, cheese, mayonnaise and spinach tortilla rollups; Stonyfield organic yogurt squeeze, strawberries, cucumber and a Trader Joe's chocolate honey mint.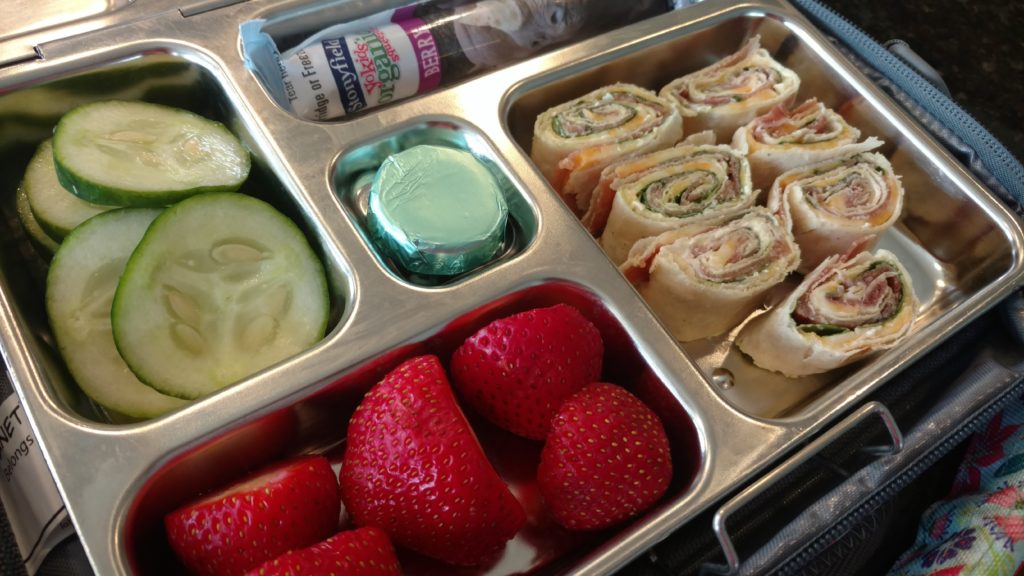 Four:
BBQ Chicken sandwich  with cheese on a gluten-free bun, leftover Thai Slaw from the Fit Mitten Kitchen (We just used the dressing and a package of broccoli slaw), blackberries and a Home Free chocolate chip cookie. The Sandwich is just free-range chicken breast mixed with my No-sugar BBQ Sauce. I melted it together just to make the sandwich stick together to make it easier to eat.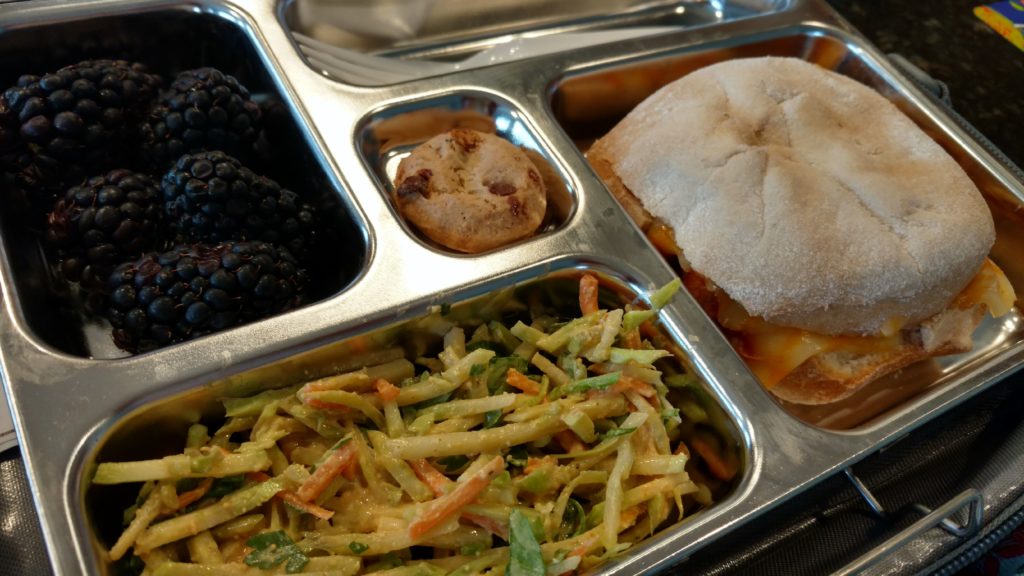 Five:
Grass-fed cheddar cheese wrapped in prosciutto (make sure the ingredients are just pork and salt. We get this at Costco and freeze half), sliced bell peppers, strawberries, veggie chips and a Home Free vanilla cookie.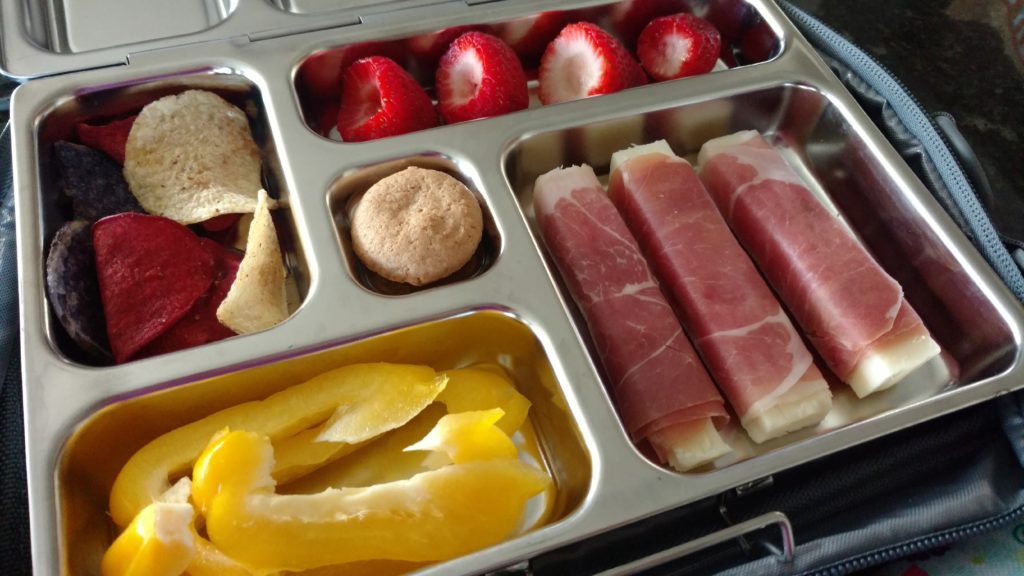 Six:
Homemade Lunchable with Aidells chicken apple sausage, grass-fed pepper jack cheese (my daughter's favorite. Pick any cheese) and plantain chips; grapes, cucumbers and mint almonds we found at our local farmer's market.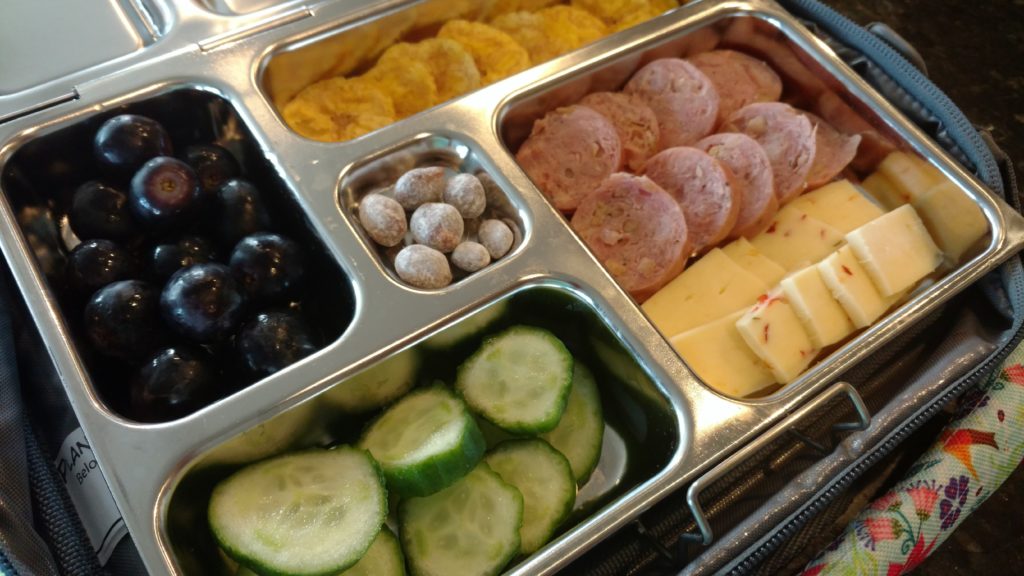 Seven:
Homemade, grain-free chocolate chip waffles from World's Easiest Paleo Baking cookbook, Siggi's strawberry yogurt squeeze, baby bell peppers, blackberries and Larabar salted caramel minis.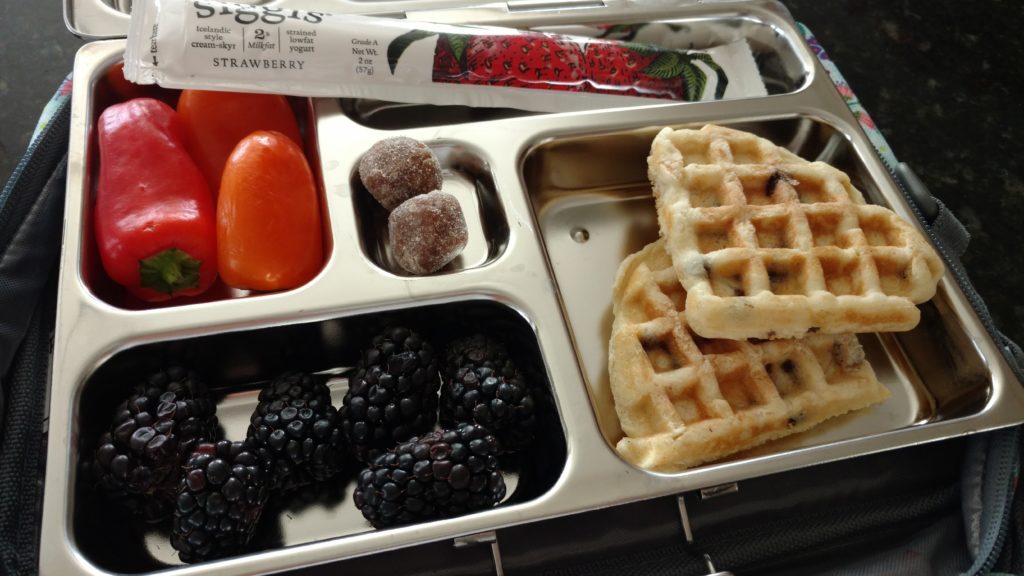 Eight:
Ants on a log (celery with peanut butter and raisins), diced mango, baby bell peppers, Babybel cheese, Way Better crackers and a Trader Joe's chocolate honey mint.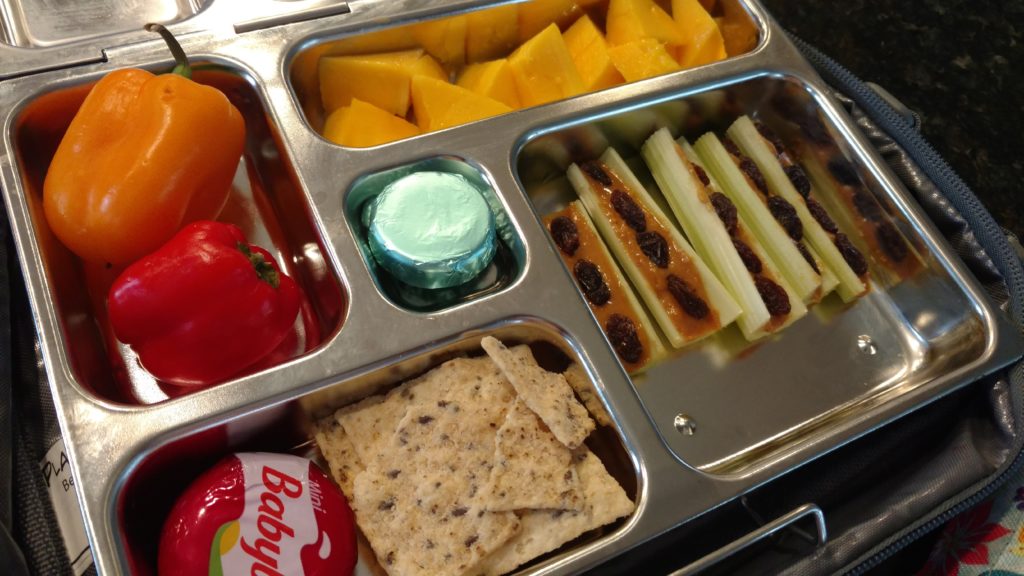 Nine:
Applegate Farms lunch meat (I like to roll it up to make it easier to pick up and eat), hummus with plantain chips, baby mandarin orange, red peppers slices and Emmy's peanut butter coconut cookie.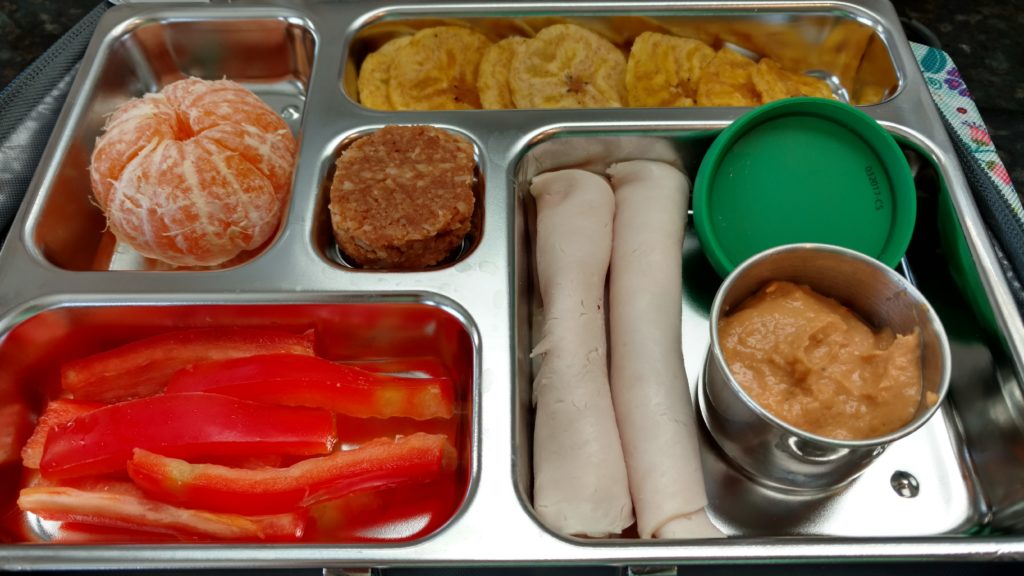 Ten:
Two Savory Breakfast Cookies from My Life Cookbook, carrot sticks, mixed berries, grain-free Autumn's Gold granola from Costco and Go Raw Chocolate Coconut Crisps.