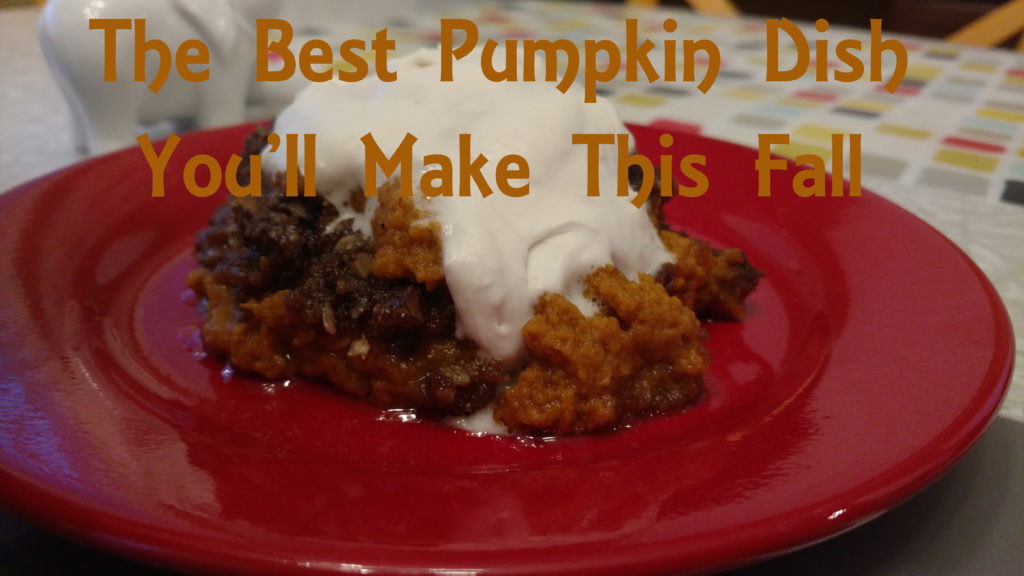 Excited doesn't really cover how I feel about this recipe. I made it on a Sunday and literally dreamed about it the night before. Yes, I am that big of a loser and yes, it did live up to my dream.
I used to make a pumpkin dump cake that made my heart happy. It was creamy and warm on the bottom with a crunchy, sweet top. I LOVED it! The problem was, it was loaded with both white and brown sugar and was topped with a cake mix…. which you had to add even more sugar to. I thought about cheating and just making the darn thing (Yes, it would have been worth it), but before I sold my soul I decided to try to make a healthier version.
I'm SO glad I did. The pumpkin layer is warm, creamy, sweet and bursting with fall flavors. The topping contrasts nicely with the creamy base and the flavors work perfectly together. This is a perfect dessert for a cold night. Though since this dessert is so good I almost cried, I'll probably make it for my birthday… in April.
So if you believe all men (and women) are entitled to the pursuit of happiness, make this… now. No really. Go do it.
A few tips first (sorry for the false alarm. Hopefully you aren't running to grab your slow cooker).
Make sure you grease your slow cooker. If you don't, instead of talking about how much you love me, you'll be cursing me to the depths of Hades. Grease that sucker!
Yes, this has a lot of ingredients, but it truly is a dump cake. Two bowls and a slow cooker. That's it. You don't even have to beat the pumpkin layer in stages. I really did just throw everything in a bowl and beat it.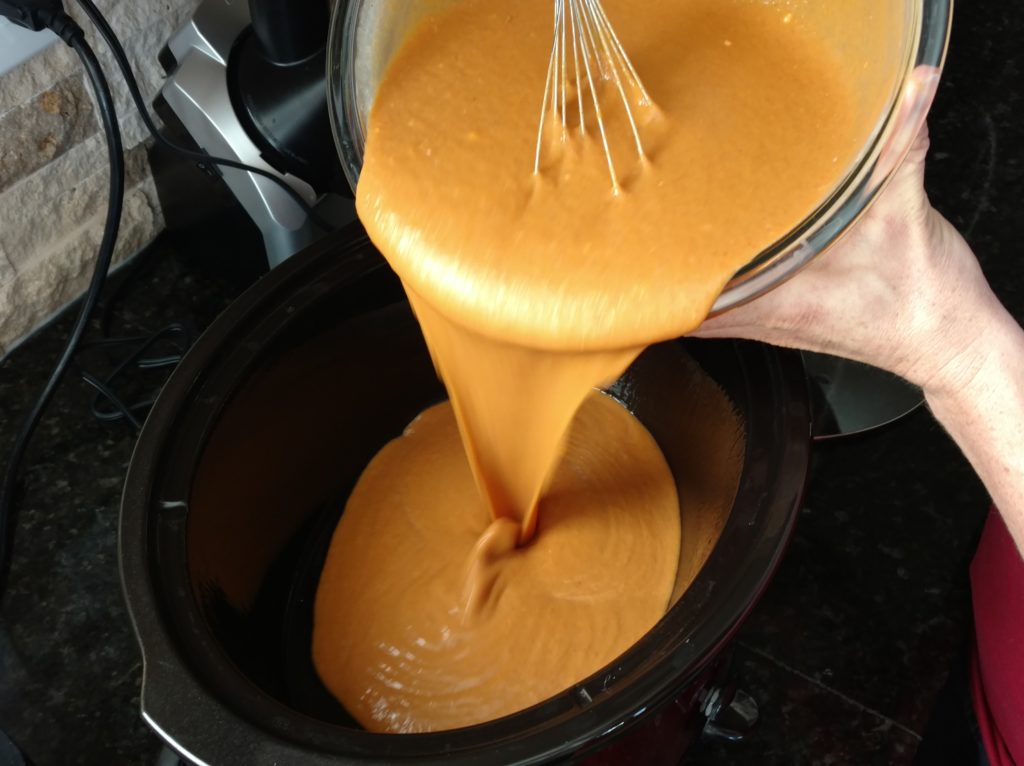 Make sure you distribute the topping evenly when you sprinkle it over the pumpkin. This is basically going to cook up like a cake layer, so you want it as even as you can get it. Though since it is a dump cake, you really can't ruin it. This just makes it better.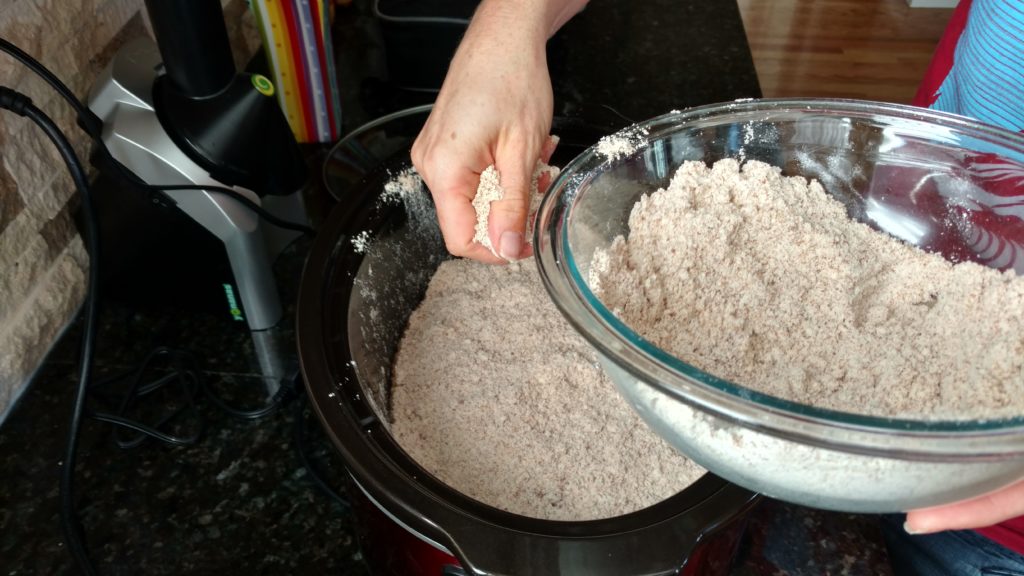 The same goes for the butter. This provides a lot of the liquid for the cake layer, so you'll want it even. But again, you can't ruin this. The moisture from the pumpkin and the steaming affect of the slow cooker will get any spots you miss.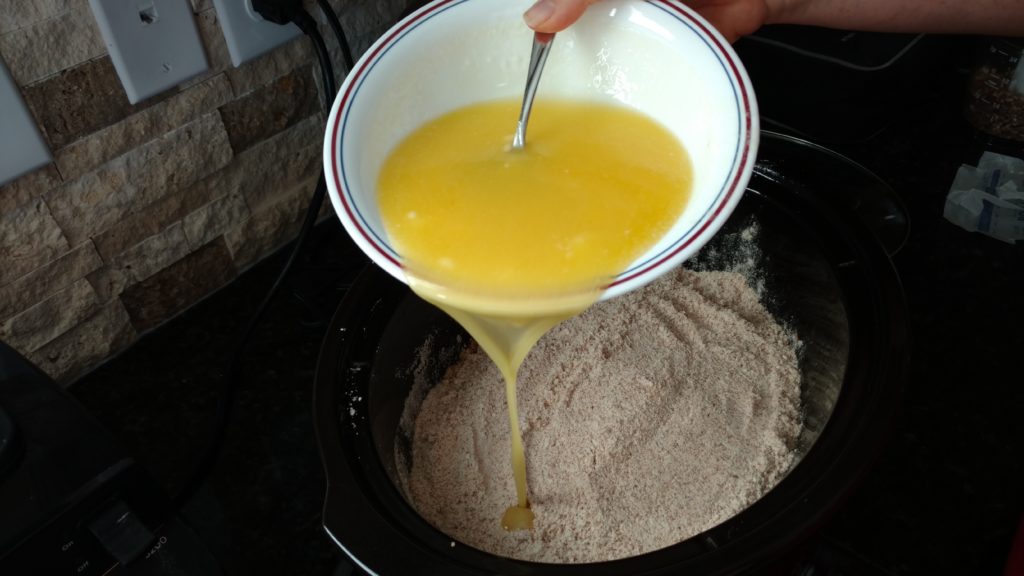 As far as the pecans go, they are totally optional. If you hate pecans or they kill you if you eat them, you should leave them out. I love the flavor of pecans with pumpkin and fall spices so I left them in. You can even substitute them with another nut if you like. Not peanuts though. I like peanuts as much as the next squirrel, but that just sounds wrong.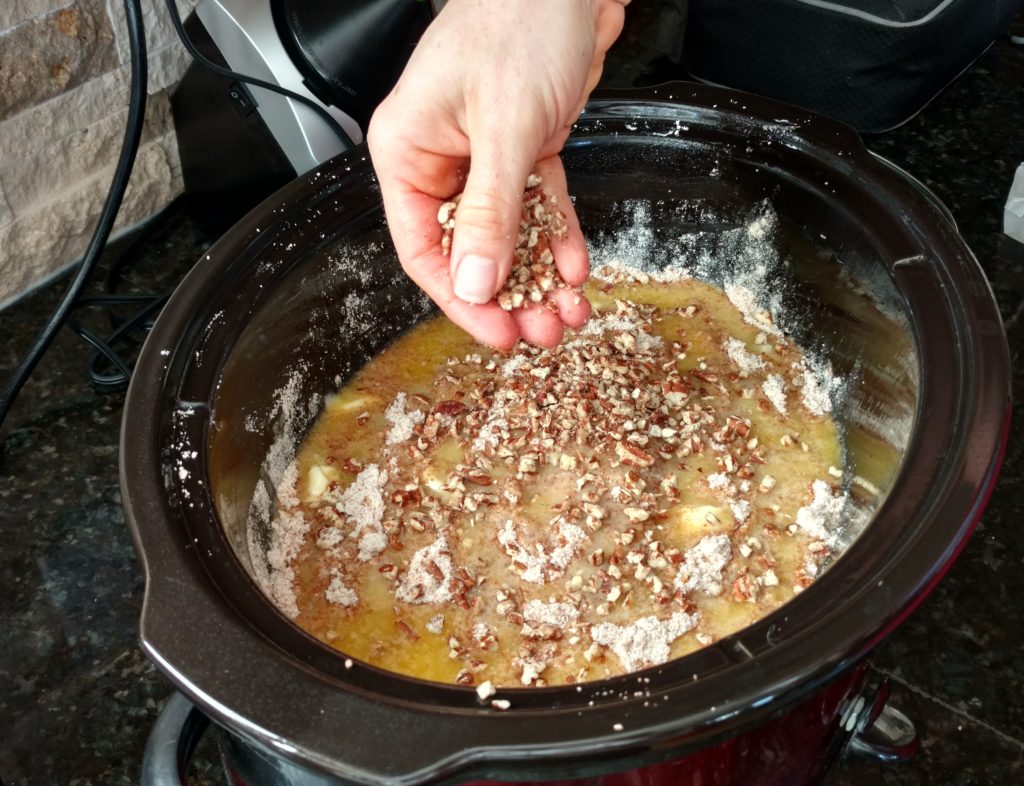 Lastly, this is a dish that is amazing on its own, but is even better topped with something cold and creamy. While ice cream would be amazing, we decided to go with something a little healthier and use coconut cream. Don't worry. If you can hold a hand mixer, you can make coconut cream. Click here for instructions from The Pioneer Woman. We sweeten ours with honey.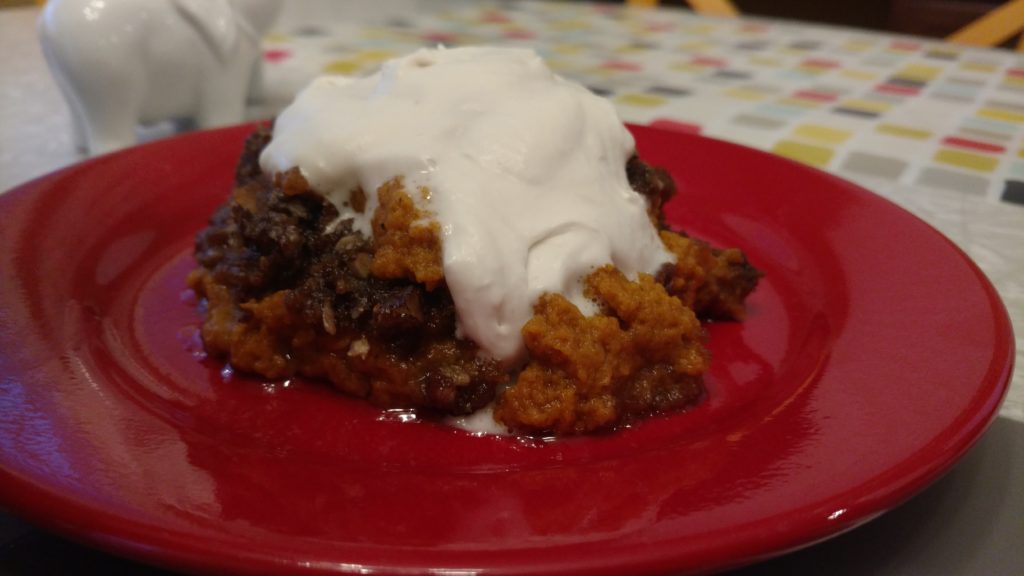 Okay. Now you are armed with what you need so go and make it. Now. It's not a false alarm this time…

In a large bowl, use a hand mixer to combine the pumpkin, eggs, coconut milk, maple syrup, pumpkin pie spice, cinnamon 1/2 a teaspoon of the salt and the vanilla.

Pour this into a greased slow cooker

In another large bowl, use a whisk to combine the almond flour, tapioca flour, coconut flour, baking powder, baking soda, remaining 1/2 teaspoon of salt, and coconut sugar.

Sprinkle this over the pumpkin mixture in the slow cooker.

Drizzle melted butter over everything and top with chopped pecans.

Cook on low for three hours.

Top with coconut cream if desired.