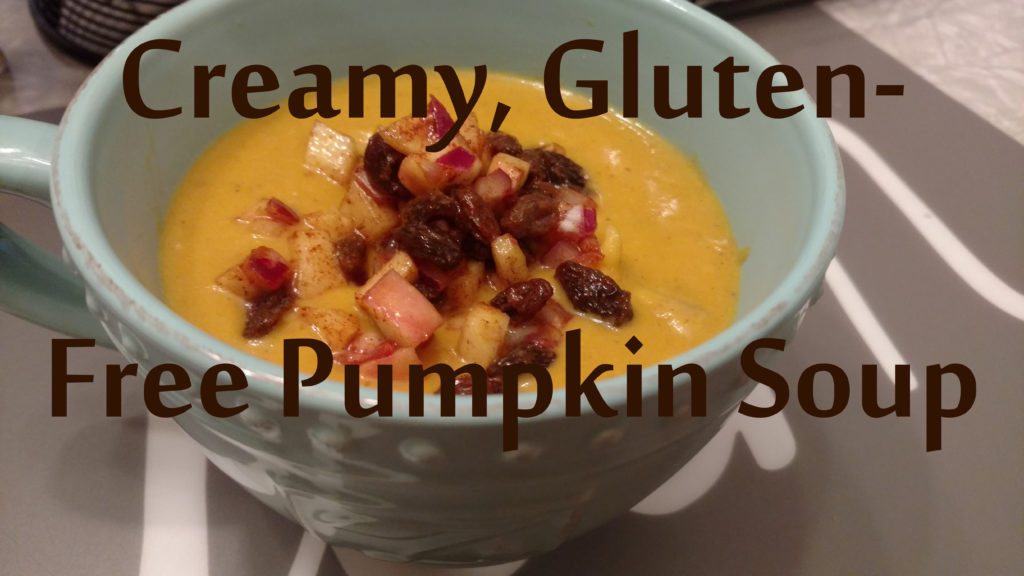 A few weeks ago I was more stressed than usual. I decided the thing that would decrease my stress would be to organize my pantry. I know this doesn't make a ton of sense, but you people like me (Type A and slightly OCD) understand how a well-organized pantry can lower stress.
In my organization, I stacked 13 cans of pumpkin puree. Thirteen!! That's when I knew I had a problem. But since it is fall, I decided to put that pumpkin to good use and not just for pumpkin bread, pumpkin pie, pumpkin pancakes… I really want some pumpkin right now.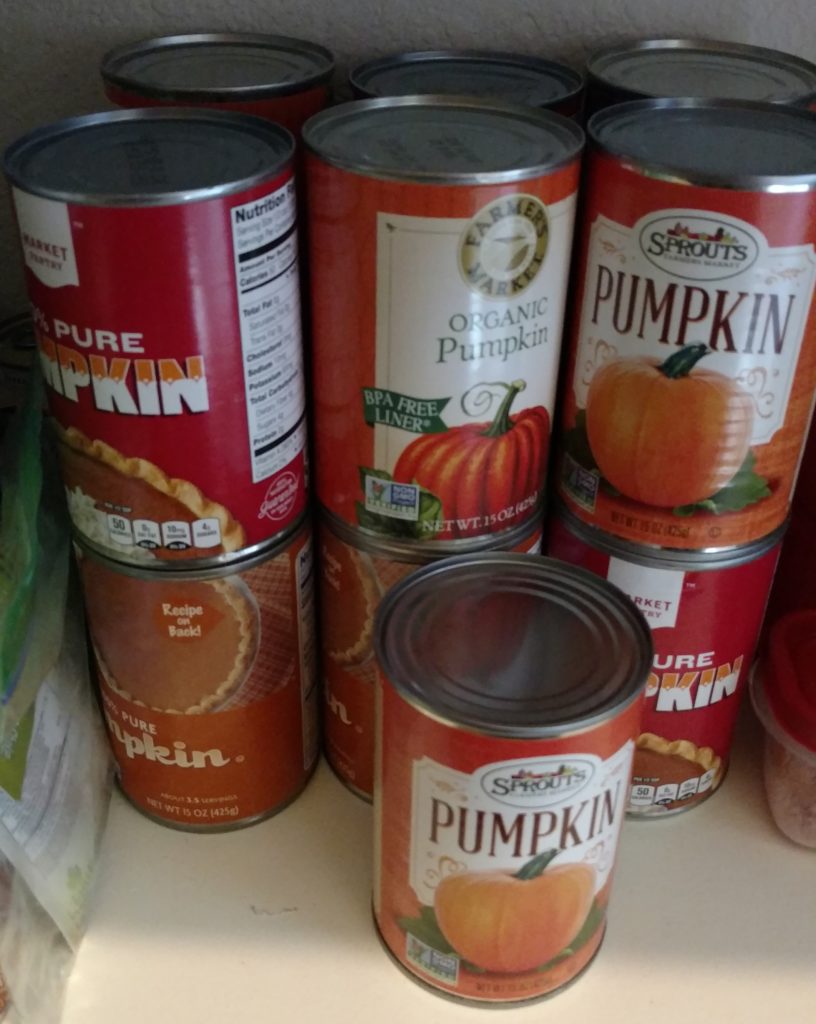 I immediately thought of this amazing pumpkin soup I had a few weeks ago. My friend had a pumpkin party (best idea ever, right?) and made this amazing pumpkin soup from Rachael Ray (click here for original recipe). But I was sad when I saw the recipe and realized it included flour and diary. The soup is actually pretty healthy in its original version but if you are like me and swell up in your joints and gut if you eat gluten or dairy, you'll appreciate my dilemma.
I decided to make the soup but change the ingredients and adjust them to still get the same creamy consistency without the flour.  I also wanted to up the protein with some chicken. I'm pleased to report I was very successful. My whole family loved this soup.
The best part is that it comes together in one pan. Start by sauteing the vegetables in the butter.
The bulk of this soup comes from three cans. How easy is that?! Just a can of chicken stock, a can of pumpkin and a can of coconut milk.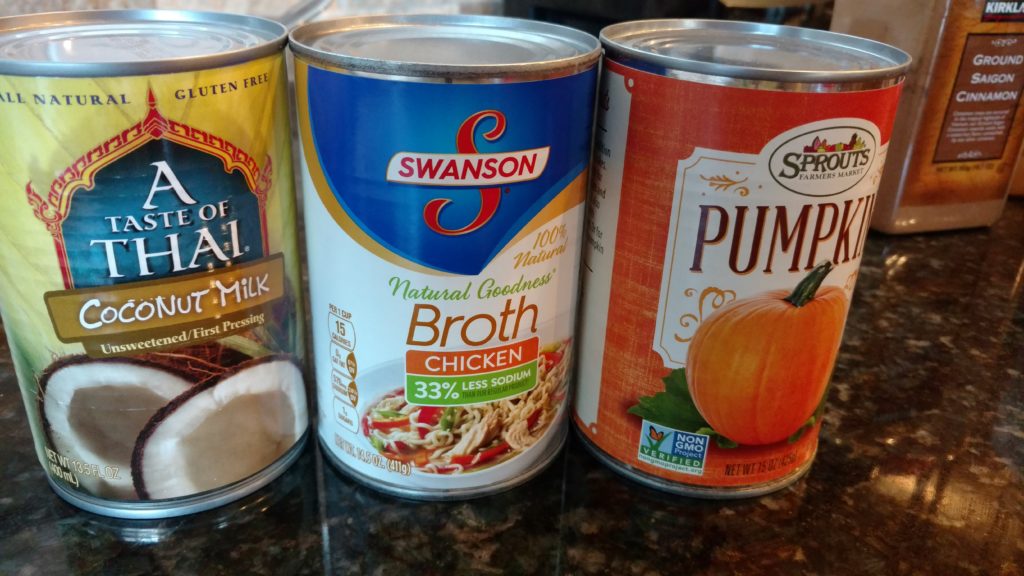 Then it gets some great flavor from the nutmeg and bay leaves.
After this simmers together, just add some cooked chicken pieces. We use thighs because we like them better than breasts,  but any chicken will work great.
As far as the relish goes, I left it completely the same as the original recipe but replaced the Craisins with raisins. It's close to impossible to find dried cranberries without added sugar, so I opted for the raisins. The flavor was still amazing. I also left out the chili as I knew that would not impress my 5-year-old.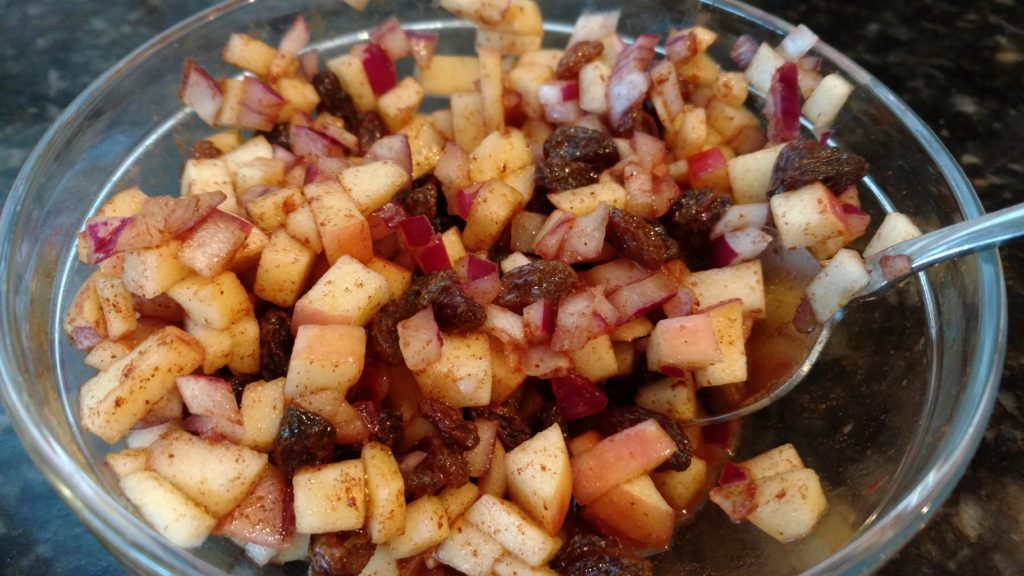 Now I have 12 cans left of pumpkin in my pantry. Guess I'll have to try one of these (click here for a link to some great pumpkin recipes).