It's Fall!! The air is crisp, the leaves are red, the occasional sweater makes an appearance and the best part of the season shows its lovely orange face: PUMPKIN! I firmly believe pumpkin should be a part of everything I eat whenever possible from October 1 to December 31. It just feels right. Basically, this is me: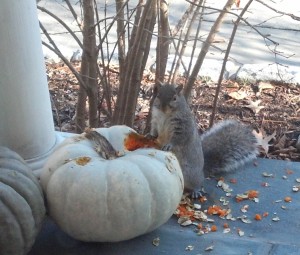 The problem is, a lot of those delicious, gooey pumpkin desserts are chock full of refined sugars, processed flours and hydrogenated oils. Because I am not willing to give up my pumpkin desserts, I needed to come up with a healthy pumpkin pie. And not just a normal pie, but a CHEESECAKE!  Now listen. Eating healthy doesn't mean eating "healthy" treats every day. And to me, it doesn't mean depriving myself of treats for the rest of my life, because that sounds like the worst life possible. What it does mean is eating healthier treats in moderation. We have dessert every Sunday night. We had this last Sunday and the whole family gave it two thumbs up, including my son with sensory eating issues. That's always a huge win in our household.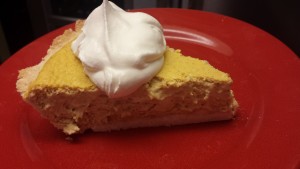 I started with this coconut cookie pie crust by Plated with Style. I've made this crust for several pies and love it. Why reinvent the wheel, right? I left the crust raw and baked the filling and crust together with great results. I used a regular pie dish and greased it with coconut oil, which I highly recommend.
This cheesecake easily comes together in a stand mixer. If you don't have a stand mixer, use hand beaters.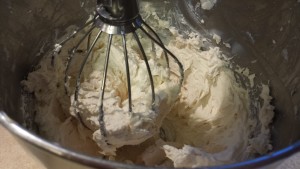 I've heard of several clean-eating cheesecakes that require soaking cashews and then blending them…. I just stick with cream cheese for this. The sweetness comes from maple syrup, vanilla and fall spices like cinnamon.
The batter will be very thick, so don't worry it's wrong if it's not really pour-able.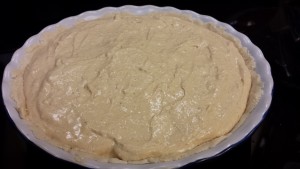 The pie bakes for 30-35 minutes. The middle should be a bit jiggly, but not sloshy.  I'm not ashamed to say, I teared up a bit pulling this out of the oven because it smelled SOOOO good. It's like a perfect package of fall.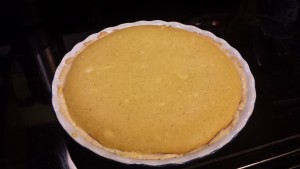 Once it reaches this state, let it cool before refrigerating at least four hours. I made this on  a Saturday night for a Sunday dinner and left it in the fridge overnight.
You can eat this plain or top it with whipped coconut cream. Happy pumpkin season!!!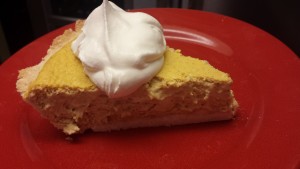 Prepare crust according to instructions but do not bake.

Beat the cream cheese, maple syrup and vanilla together with whisk attachment until completely combined. This takes a bit for the syrup to incorporate with the cream cheese.

Add in the two eggs and beat until silky and smooth.

Add in the pumpkin puree and the spices and beat until combined

Spread the filling into the pie crust and bake at 325 degrees for 30-35 minutes or until middle is mostly set but still a bit jiggly.

Refrigerate for at least four hours.

Eat plain or serve with whipped coconut cream.