I don't like beans. It's not the taste or the texture; it's the after effect. The night I eat beans, I'm groaning on the couch, my stomach churning. The problem is, I love chili. I love it on chips, I love it on fries, and I love it in a bowl with avocado and sour cream. But every no-bean chili I've tried is usually just glorified Sloppy Joe meat. So I decided we needed to come up with a healthy no-bean chili that still has that great chunky chili texture. Here is what we came up with.
Start by cooking the meat and onion, just as you do in every chili.
The great texture comes from a bunch of vegetables. Add a chopped carrot, red, green and yellow peppers and a can of diced tomatoes.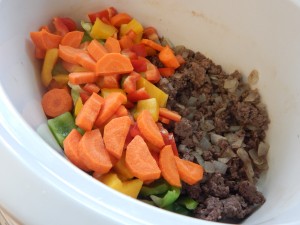 Then add the great flavor with your seasonings. Stir in your seasonings and flavored liquids and let this simmer in the slow cooker for 6-8 hours.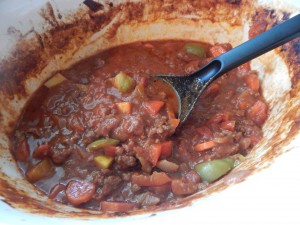 Eat this in a bowl with your favorite toppings or spoon it over hot dogs, sweet potato fries or veggie chips. Better yet, freeze half and reheat it to use in a fun, new way.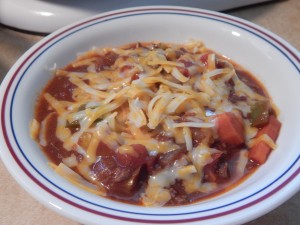 In a large skillet, brown ground beef and onion. Add this to a slow cooker.

To the slow cooker add the chopped peppers (red, green and yellow) and the carrot.

Add the diced tomatoes, tomato paste, beef broth, cumin, taco seasoning, cinnamon, cocoa powder, Worcestershire sauce, and balsamic vinegar.

Cook on low for 6-8 hours.