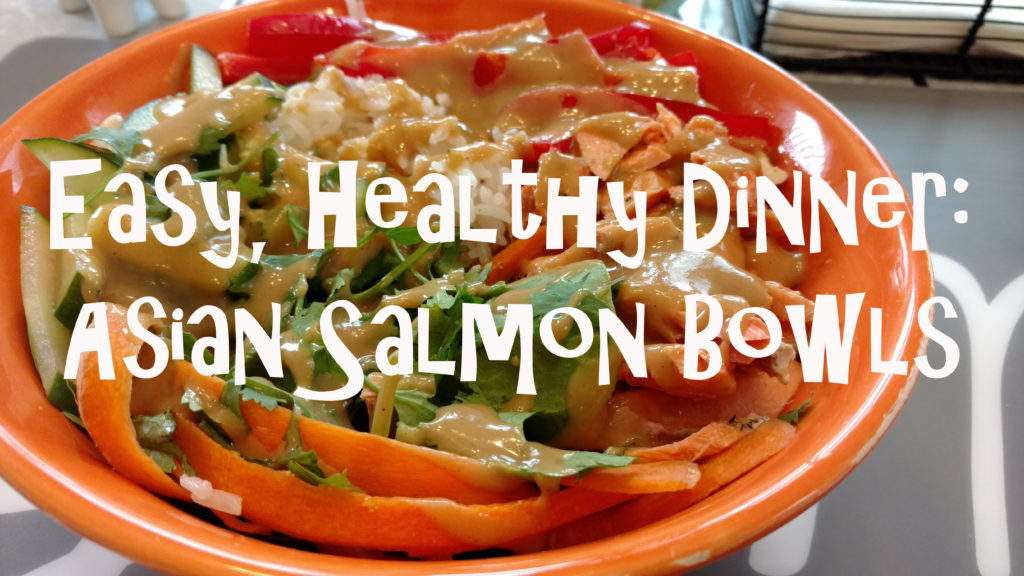 I have a confession that may get me kicked out of the healthy community. I do not particularly enjoy eating fish. I am okay with white fish, but I don't love salmon (one of the healthiest fish due to its higher fat content). Fish provides Omega-3 Fats, which help our heart and reduce overall inflammation. A word about buying fish. ALWAYS buy fish labeled "wild-caught." This means the fish was taken from its natural habitat after eating its natural diet. "Farm-raised" fish was raised in large groups and fed using grain by-products. This makes farm-raised fish richer in Omega-6 fats which we already get way too much of in the standard American diet.
Because I realize how much I need fish in my diet, I'm always looking for a way I can eat salmon and enjoy it. One thing I do love is Asian food. I decided the best way to eat salmon was to give it some Asian flavor. These salmon bowls are DELICIOUS! They come together really fast and are easy to customize. I love meals like this because I don't have to try to please everyone. I put out the toppings and everyone can just add what they like. These are also great for company for that exact reason. When I eat these bowls I can honestly say I love salmon.
If you're going to use rice, start it cooking first.
Then start working on the salmon. I'm not willing to spend a lot of time cooking dinner so I love to cook fish in the oven. I don't want to have to watch a pan. After it cooks, the salmon easily flakes away from the skin in bite-size pieces. If you REALLY don't like salmon, you can make this with any fish. Shrimp would be DELICIOUS (a fish I actually do love to eat). Just remember to look for that "wild-caught" label.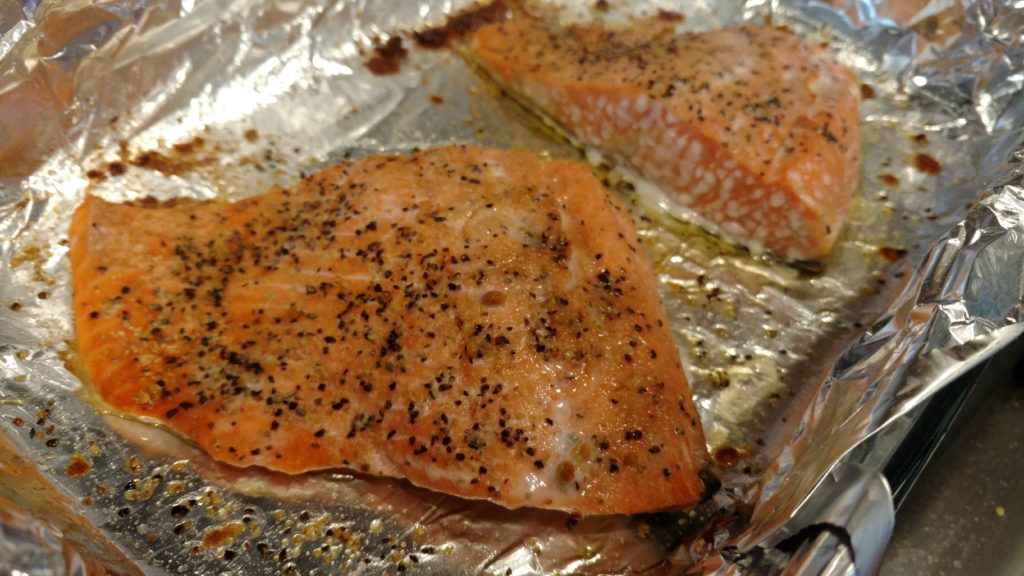 While the salmon cooks, prep all your toppings. There is really no wrong way to do this. We use cucumber, carrot, red pepper, spinach, cilantro and avocado but if you want to use something different, go for it.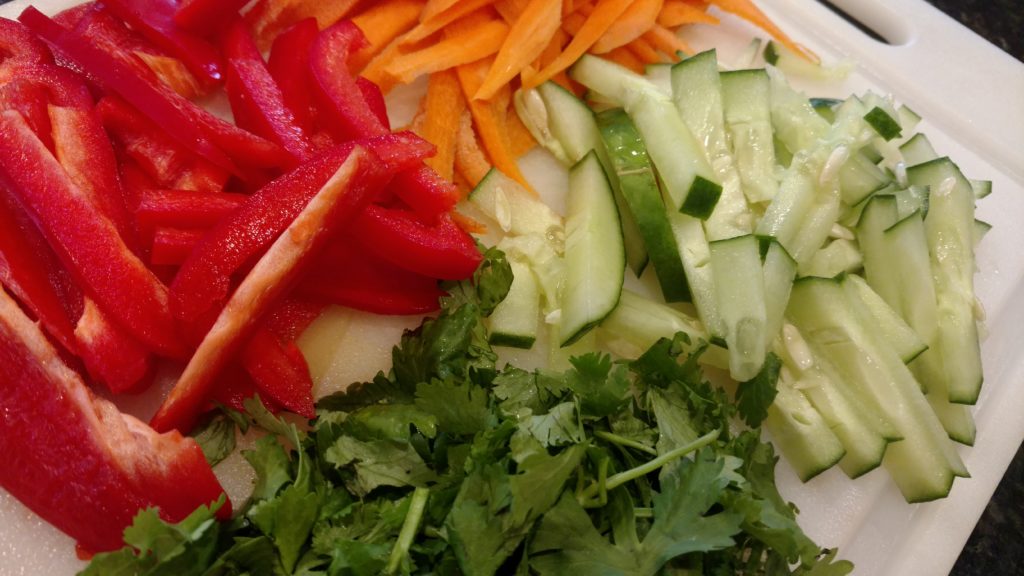 Then make the sauce. I love this sauce because it only requires one bowl and no cooking. Make and store extra for salad dressing. I like to use tahini, my husband likes peanut butter. Either is delicious. You can also use almond butter or really any nut butter you have on hand. Don't go out and buy something if you have ingredients that work.
Now just build your bowl how you like it. I like to add a scoop of rice a huge handful of spinach, one whole flaked salmon fillet and then top it with my veggie strips. Then I just drizzle the whole thing with the sauce. My family members pick the veggies they like so there's not complaining about not liking certain ingredients.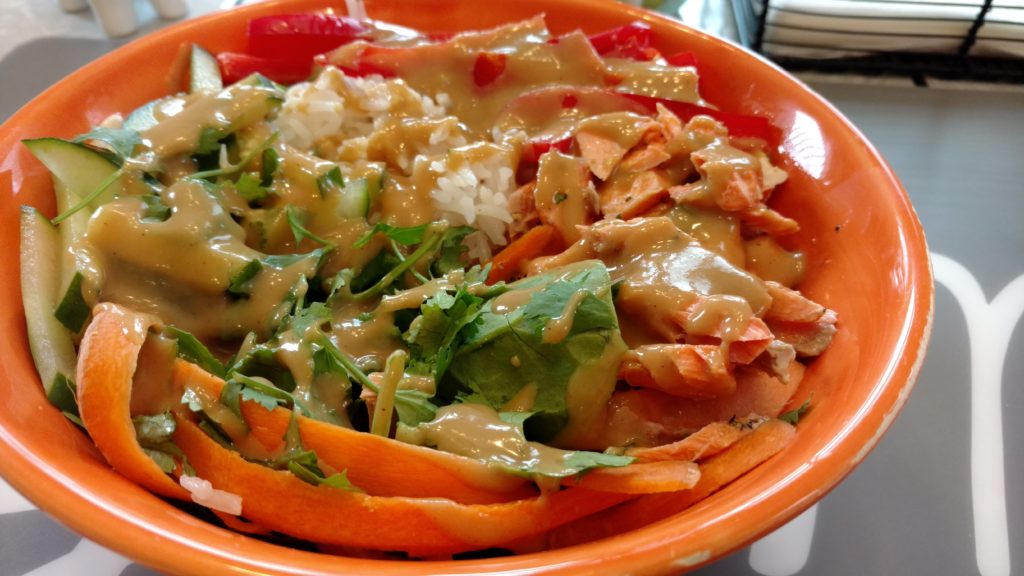 And that's it! Dinner is ready! Enjoy your fish!!

Preheat oven to 400 degrees. Line a 9x9 pan with foil and grease with ghee.

Place Salmon filets skin side down on the prepared pan and sprinkle with salt, pepper and ginger.

Cook for 12 minutes or until salmon easily flakes with a fork.

Combine all the peanut sauce ingredients in a small bowl and whisk until smooth. Add the water last to desired consistency.

Build bowl by adding a scoop of rice, one flaked salmon fillet, and a handful of spinach. Top with remaining ingredients and drizzle with peanut sauce.