Even though I enjoy making dinner for my family, there are nights I'm tired, cranky, hungry NOW, or would rather sit on my tuckus and not make dinner. That's when I love "2-for-1" dinners. That's when I make dinner one night and can use the leftovers to make dinner the next night. That's what I do when I make Grilled Round Steak. The night after we have this delicious steak, we have Steak Salad.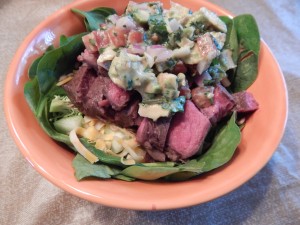 A salad is a great meal option for families with picky eaters. Each person can customize their own salad based on what they like. I've listed our favorite ingredients, but feel free to customize this however you like. I like to top it with guacamole (my favorite salad dressing) but use what dressing you have and like.

Toss first 5 ingredients together in a bowl.

Separate salad into four bowls and top each with raisins, sunflower seeds, cheese and steak.

Drizzle with your favorite dressing and serve.