Last week we were supposed to have chicken for dinner. About an hour before dinner, I realized I had failed to thaw said chicken. This always leaves us with two options: Go out to eat or throw together something quickly with what we have on hand. In the past I would have boiled some pasta and topped it with canned sauce. That amounted to very little protein, lots of sugar, and basically just a lot of processed junk. So I needed a solution that would give us a protein and vegetables without loading us down with processed ingredients. The solution: eggs. Eggs are packed with protein, vitamins, minerals and iron. It's hard to beat the nutrients of an egg. Plus, turning it into a frittata makes it seem more fun and elegant. If I were Fancy Nancy I'd say, "We're eating frittata. That's a fancy word for eggs." Can you tell I spend a lot of time with a 5-year-old girl?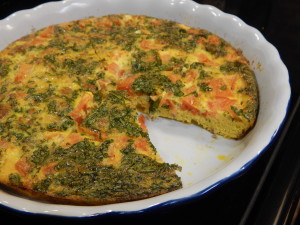 Brown a pound of turkey sausage. Let this cool a bit or the eggs with scramble as soon as you add it.
Whisk together the eggs and almond milk. Stir in some Pico de Gallo. Pico is so versatile and adds all the seasoning this dish needs. Add the sausage and mix everything together.
I like to bake this in a pie dish but you could also bake it in a 9×9 pan or an oval casserole dish.
This dish is great because it's so versatile. Add whatever meat you want or leave it out completely. If you're not a fan of pico, switch it out for different vegetables. Use what you have on hand and what your family likes.
This goes great with roasted veggies, a green salad or sliced fruit.

Preheat oven to 350 degrees Brown the sausage and set aside to cool slightly In a large bowl, whisk together the eggs and almond milk Stir in sausage, pico and salt and pepper Pour into a greased pie pan and bake for one hour or until the center is set