I eat green salad at least once a day. So the other night when I set out a green salad for dinner, my four year old threw her head back, groaned and shouted to the heavens with arms outstretched, "Why do we always have to have salad?!" Since I don't want my daughter to decide she hates vegetable because she's sick of salad, I decided we needed another fresh veggie side dish. This is even easier to make than a green salad and has an ingredient that makes everything better: CHEESE!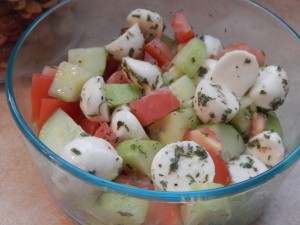 Chop your tomatoes, cucumbers and cheese to roughly the same size. This makes it easier to taste all the flavors of the salad.
I like to use an organic Italian salad dressing mix which I make with olive oil and apple cider vinegar, but use what you like best (balsamic tastes great also). Just make sure it doesn't have added sugars or bad hydrogenated oils (canola oil, vegetable oil, etc).
Just mix everything together and serve.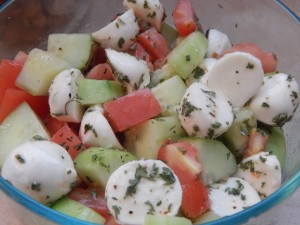 Chop tomatoes, cucumber and cheese (into cubes) so all three are roughly bite-size, and add to a large bowl.

Finely mince parsley and add to bowl.

Add the vinaigrette and mix. Start with 4 Tbsp and add more to taste.

Salt and pepper to taste.