For the most part, a healthy lifestyle is easy to maintain. The hardest part is when people are eating dessert. I can usually resist, but there's always part of me that wants to grab the milkshake out of their hands and chug it down. But then I remember how horrible I feel after I binge on sugar and talk myself down. Rather than cheat and feel like death after, I try to come up with ways to have a treat without loading my body with processed, sugary crap. This healthy take on a classic milk shake was a huge success.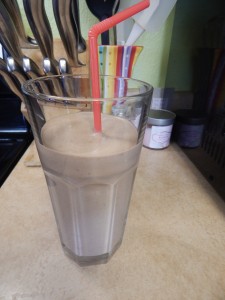 I bring this all together with my immersion blender. This is one of my favorite tools because it creates way less cleanup than using a blender.
Combine coconut milk, a frozen banana, protein powder and peanut butter with an immersion blender. I use this protein powder.  It tastes great and doesn't have all the bad stuff some protein powders do.
This is so thick you'll need a spoon. See! Eating healthy doesn't mean you can't indulge.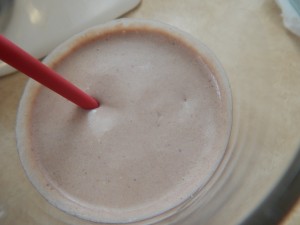 Add all ingredients to a cup and blend with an immersion blender.

Serve with a straw and a spoon