My mom used to make our family a big breakfast every Sunday. Sometimes it was french toast, sometimes waffles and sometimes it was pancakes. Being the awesome mom she is, she'd make my pancake shaped like minnie mouse, complete with pancake eyes, nose, mouth and bow. It was the best breakfast you can imagine.
My kids get pancakes… shaped like circles. Unless I have a batter accident and then sometimes it's shaped like something from a Rorschach test. Oh well. It's a pancake, right?
These are our favorite pancakes to make. They are sweet, super easy to make and flip better than any grain-free pancake I've ever made.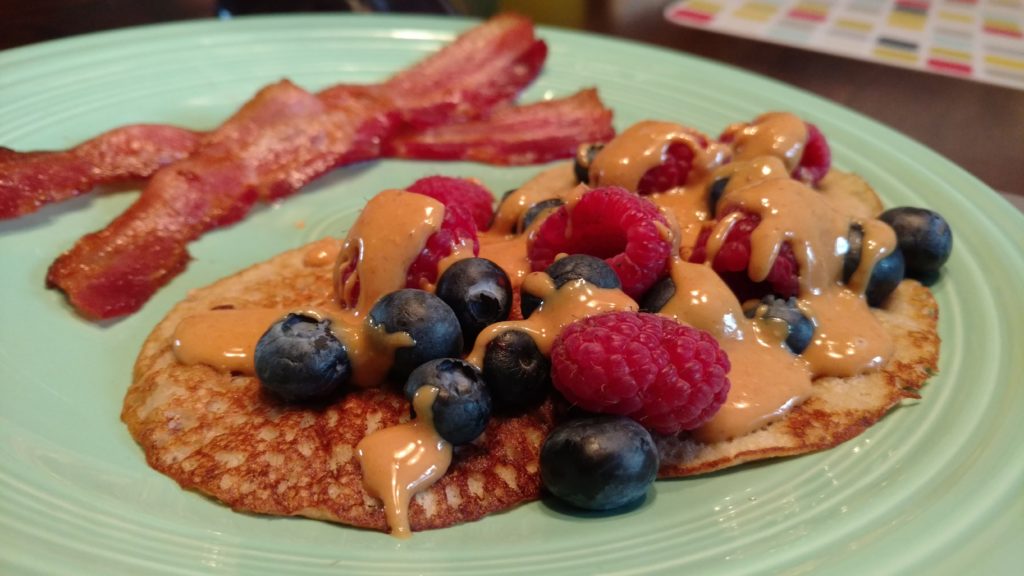 I was actually shocked how much these taste like regular pancakes. I thought they'd be really eggy, but the flavor and texture was fabulous. Plus, with only three ingredients, these are the easiest pancakes I've ever made. Unless you count adding water to Krusteaz mix…
I mix everything together in a blender because it's easy, thorough and the spout on the blender jar is the perfect way to pour the batter onto the skillet.
My son ate these with maple syrup, but my daughter and I heated some natural peanut butter in the microwave for 30 seconds and drizzled it over the top. WOW! That was absolutely amazing. It was one of those meals that makes me wonder why everyone doesn't eat healthy.
Enjoy your pancakes, no matter what shape they take.

Add all ingredients to a blender and puree until smooth

Heat skillet over medium to medium-low heat.

Grease skillet with coconut-oil spray and pour pancake batter from the blender jar.

Cook pancakes until bubbles form on top and then flip (about 2 minutes).

Cook another minute or so on the other side and then remove from skillet.

Top with syrup, fruit, or peanut butter.