We're not fancy people in our house. We spend Sunday afternoon in sweats, we spend more money on books than I do on make up, we eat every meal on mismatched plastic plates, and I have on several occasions walked into a store before realizing I was still wearing slippers. So the fact that I would take the time to make this "fancy" dish for a random Tuesday night dinner, shows how easy it is. I'm always trying to mix up how we eat our vegetables so we don't get bored and this method is easy enough for any weeknight but still makes us feel "fancy."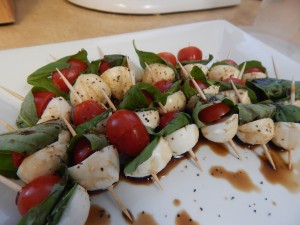 It's as easy as sticking everything on a skewer (or a long toothpick) and drizzling it with vinegar and salt and pepper.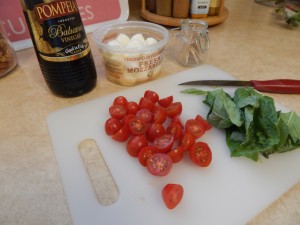 Depending on the size of the basil leaf, I either wrapped the leaf around the tomato or just layered it. It really doesn't matter which you do. I also tried them with half a cherry tomato and a whole cherry tomato. Because my mouth is smaller, I preferred the tomatoes cut in half. But my sweet husband, who has a rather large mouth (I mean that in the best way. I really do love you, honey!), did great with the whole cherry tomato. It's just a matter of what you like best.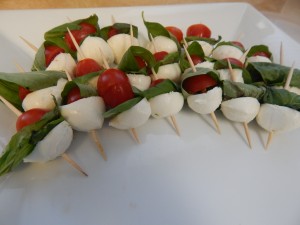 I used fresh mozzarella balls because they are so creamy, but feel free to cube up a brick of mozzarella instead. It will be a bit harder and the flavor is a little stronger, but I've used both with great results. I didn't list exact measurements, but one package of basil (purchased with the organic herbs in the produce section) made enough skewers for four of us.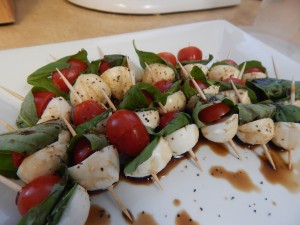 Maybe one day I'll serve these at a PTA dinner party, on a china platter, while wearing a pink cocktail dress. Until then, we'll stick with our plastic plates and my over-sized Yoda t-shirt.

Layer one basil leaf, one cherry tomato and one cheese ball on a skewer or long toothpick.

Arrange on a platter and drizzle with balsamic vinegar.

Sprinkle with salt and pepper.