Tuesdays are crazy in our house. We leave the house at 11:45 and don't get home until about 5:30 p.m. While there are some good protein bars and jerky sticks we can pack to eat on-the-go, nothing beats real, whole food. Yet it's not always easy to transport or eat healthy food to eat while sitting in a car or watching 15 5-year-olds in tap shoes and tutus dancing to "Let it Go." (what I'm doing Tuesdays during lunch). So here are some easy-to-eat, healthy on-the-go meals. The great thing about these is they're also good for kids and can be a great way to mix up school lunches. Switch out any glass jars for plastic containers with screw on lids and you have something fun to pack in a lunch box.
1. Protein Pack
Lunch meat, cheese slices, snack peppers, nuts and strawberries. All these are easy finger foods but are packed with protein and includes fruit and vegetables. You can switch up the kinds of nuts or use seeds. You can change the strawberries for grapes or blueberries.

Wraps are a great on-the-go meal. They pack all the nutrients of a salad but are wrapped up so they're much easier to eat without a table and a ton of napkins. Add a handful of spinach to this recipe and you've got a well-balanced meal.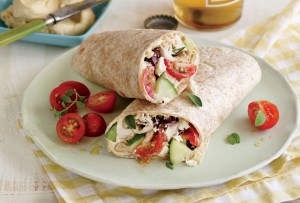 Like wraps, pitas are a great way to eat a healthy meal in an easy-to-transport package. This pita from The Cookie Rookie has a lot of protein, healthy fat and veggies. I'd add spinach to this one as well.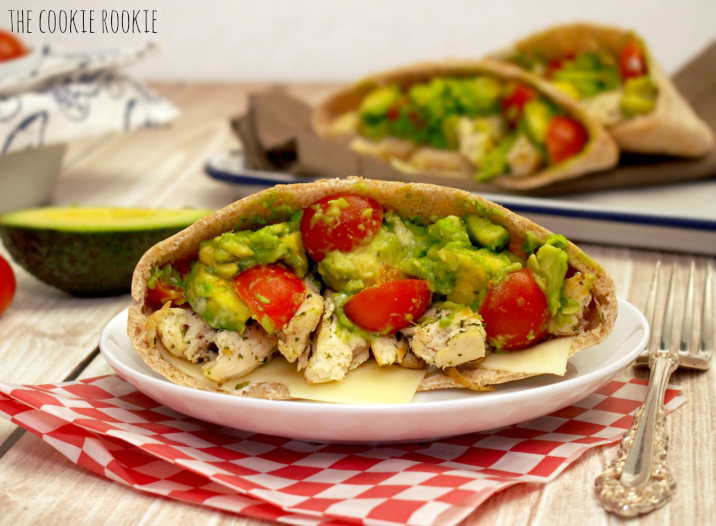 Since these oats set overnight and are meant to be eaten cold, you can grab the jar out of the fridge in the morning and go. These are packed with protein, fiber and healthy fats. Plus these are easy to customize with your favorite nuts and spices. I like to bring some blueberries or raspberries to top these and make it a perfect meal.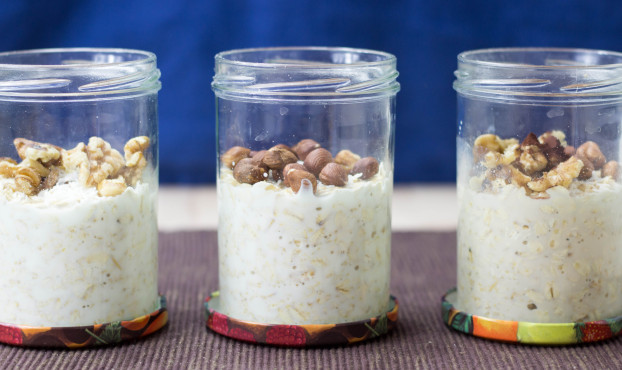 Smoothies are a great meal option as they are portable, easy to customize and pack a ton of nutrients. This smoothie from Real Simple has delicious natural sweetness from the pineapple and banana and you get your veggies in to by adding the kale. Plus, the color is awesome.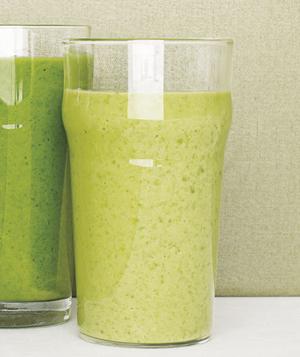 Salad in a Jar is a great on-the-go meal. You can make them the night before and just eat them right out of the jar. This salad from Foxes Love Lemons has protein, fruit and veggies and a delicious dressing without a bunch of bad ingredients.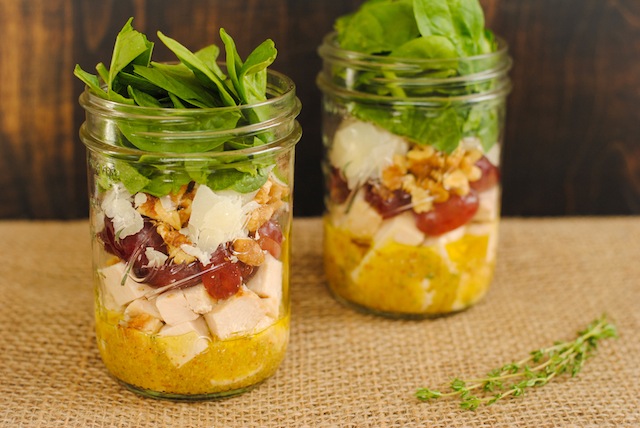 While I like to eat this in a lettuce wrap or on a bed of arugula, I'll often eat this salad right out of a tupperware on-the-go. It has great flavor and enough protein to keep you going until your next meal.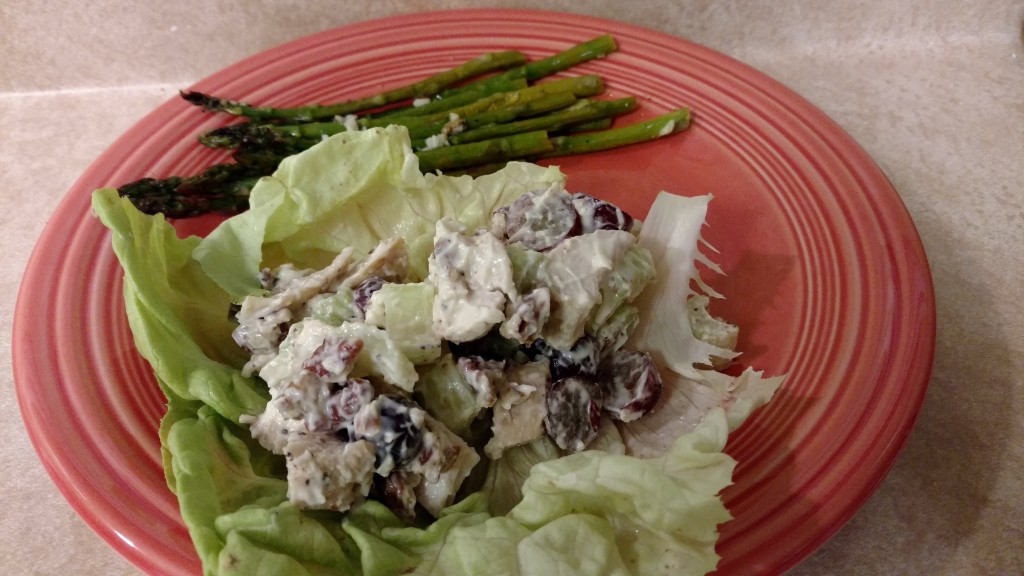 My daughter eats just about anything, but she's not a fan of rice. If you do like rice, by all means, add it. But this sushi recipe from Mark's Daily Apple best suits our family (at least that's the case for me and my daughter. The others get it by default). And as he says, use meat or fish or add rice/quinoa and leave it vegetarian. This works great in a container in a small cooler for a lunch on the go. I love things like sushi because you get your protein, fat, vegetables and carbs all in one bite.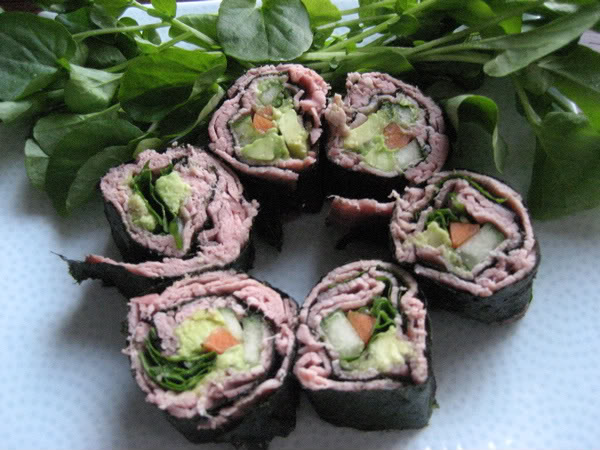 Skewers are great for on the go because you don't need any special utensils to eat them. Add a cube of cooked chicken to these and bring a small container of balsamic vinegar to drizzle over them.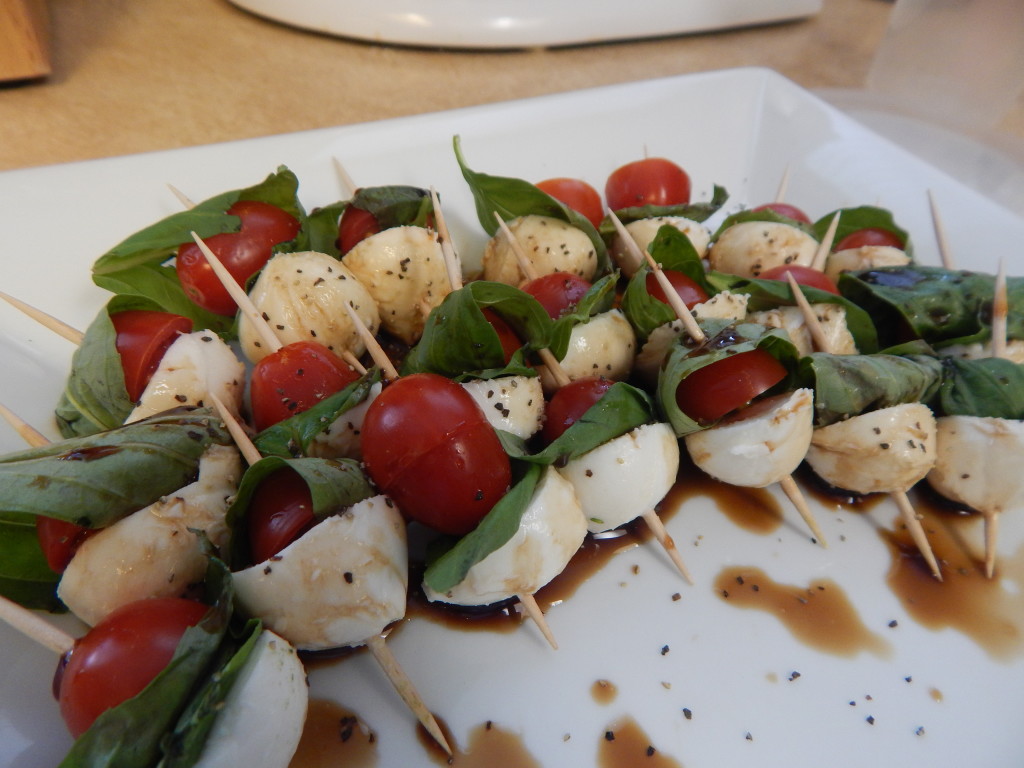 This is one of my favorite meals, "on the go" or otherwise. It has fat and protein which are essential for those mid-day slumps. When you put this in a container, put a piece of plastic wrap on the top as avocado browns very quickly.