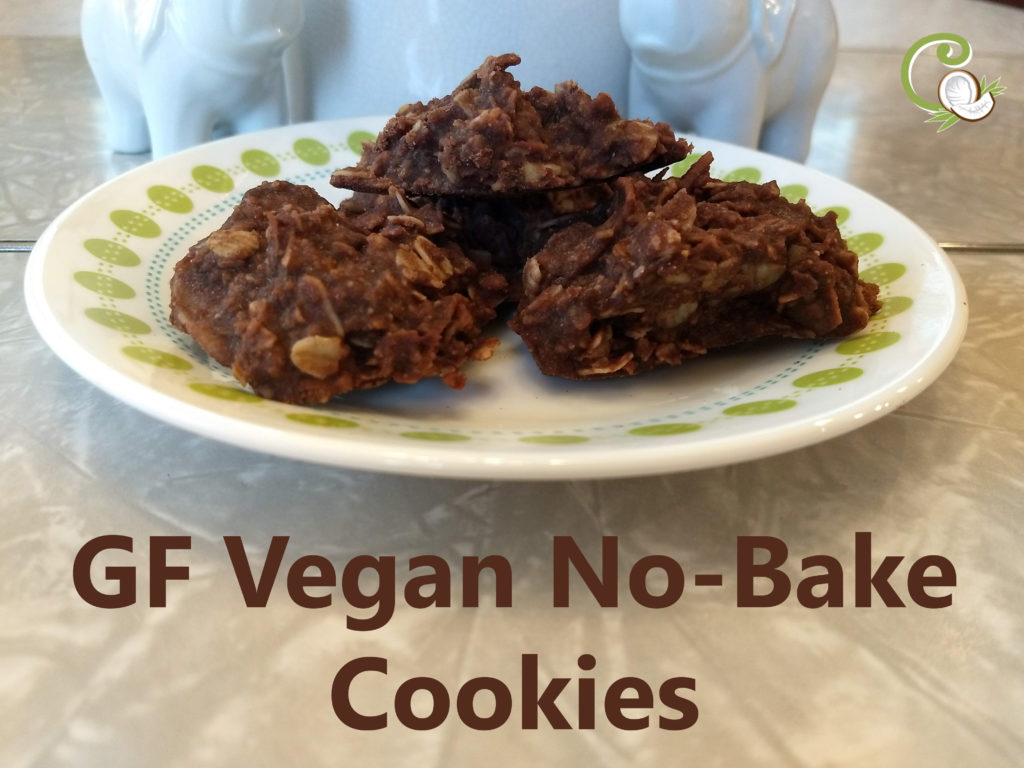 When I was a kid, I was basically a professional at making no-bake cookies. This was kind of awesome because my mom (who is a great cook) could not make them. Since she loved them so much, I got to make them a lot. My BFF and I still reminisce about how we used to come home from school and make no-bake cookies in my mauve and mint Formica-clad kitchen. Awe the 90's.
Fast forward a couple of decades. I'm still a big fan of no-bake cookies. There are few better treats in my opinion. The problem is, the butter and milk are a problem for me. I cannot do dairy unless I want to spend the next week covered in rashes and acne. Since I don't think it's fair to have acne and gray hair, I try to avoid dairy (and I don't really like scratching all day).
But being the amazingly caring wife I am, I told my husband I'd make him ANYTHING he wanted for his birthday dessert. His answer: no bake cookies. I looked at him for a moment like he'd just kicked my childhood puppy. How could he do this to me??? I couldn't even lick the pan! I decided to put my wants aside and make him his treat… sort of.
Yes, I made him a batch of standard no-bake cookies full of butter, milk and sugar. They were fabulous, of  course, but I knew my self control would get the better of me. I got out a smaller saucepan and made some dairy-free no-bake cookies at the same time. The success had me almost in tears. I licked the pan, I ate the cookies and I was even able to keep them all to myself because they all wanted Daddy's cookies. It was pretty awesome.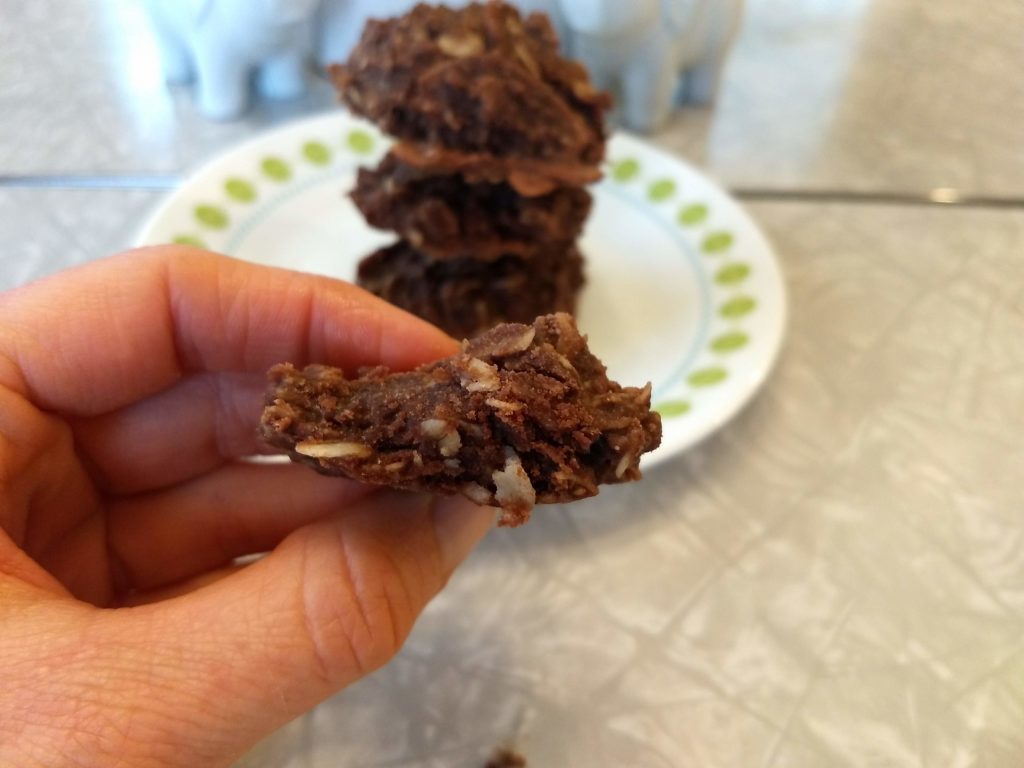 Since I was making my own batch and since sugar doesn't exactly make me feel awesome either, I used Lakanto sugar substitute (monk-fruit/erythritol combination). You could use plain cane sugar instead, but I was very satisfied with the substitute.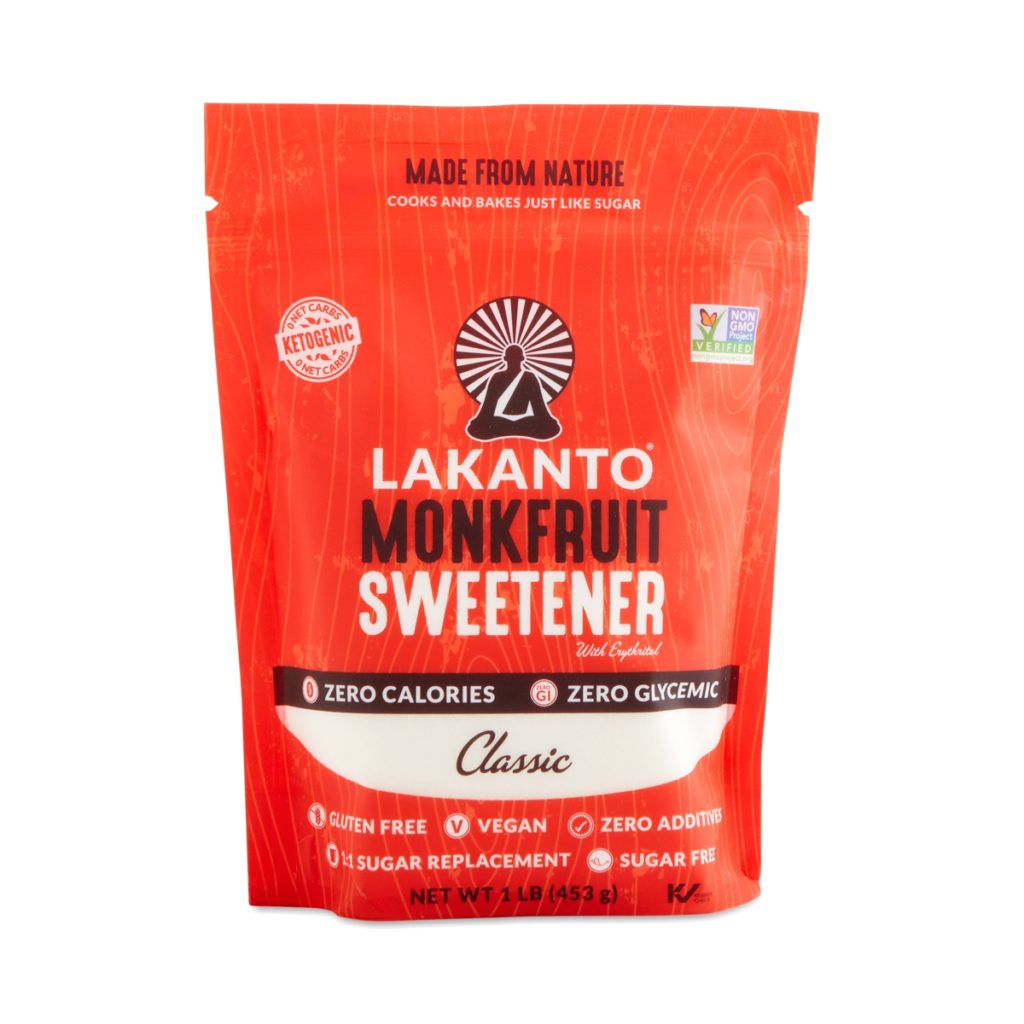 The thing I really love about these cookies is that they are stable at room temperature. So often when I make a "substitute" it has to be kept in the fridge or freezer or it will just turn into a puddle. These stored fine at room temperature in a glass container. Not that they were around long…
This recipe is gluten-free and vegan so it's versatile enough to take to events or share with friends. Now my husband can ask for no-bake cookies anytime and I can still be an awesome wife without sulking.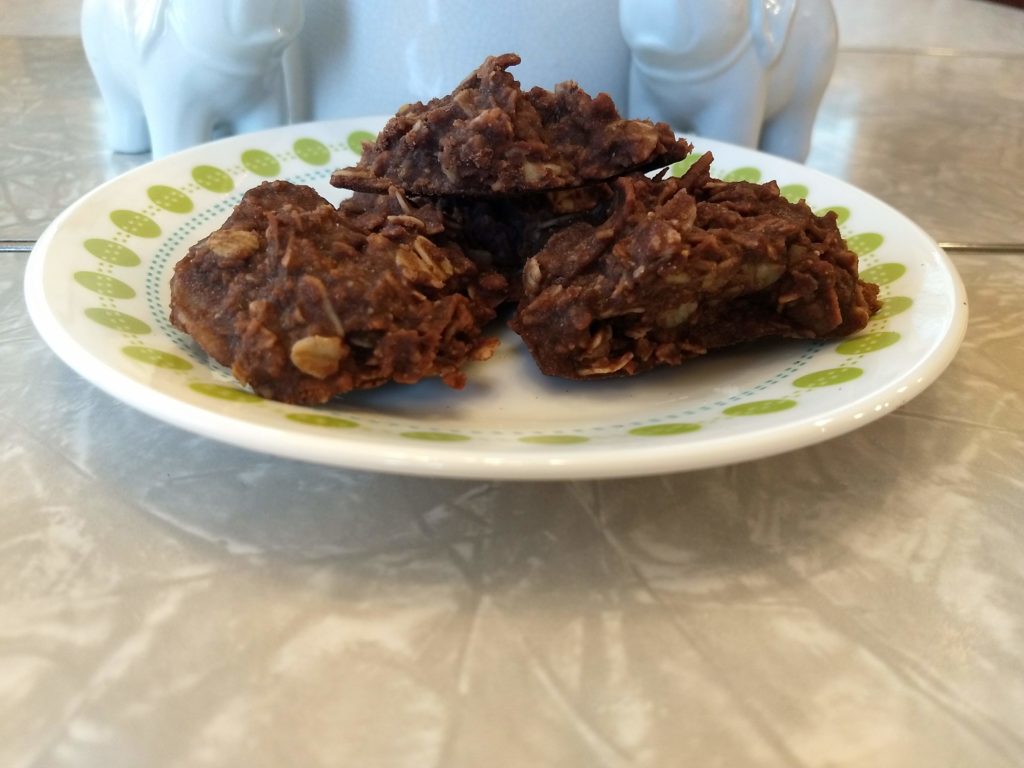 In a small saucepan, combine the coconut oil, sugar, cocoa powder and milk. Turn the heat to medium and let it come to a boil.

Let that mixture boil together for 1 minute 30 seconds.

After the boiling time remove the pan from the heat and add the peanut butter, vanilla and salt. Mix this all together until smooth.

Add in the coconut and oats and combine.

Using a cookie scoop, scoop balls onto parchment paper. Let the cookies set for 2 hours or until set.

Store leftovers in an air tight glass container.