Thanksgiving: it's all about turkey, pumpkin pie and late night Christmas shopping. Oh it's not? Sadly, it seems like Thanksgiving is getting out-shined by early Christmas celebrations and food. And while I fully support both Christmas shopping and food, I want my kids to know why we celebrate Thanksgiving.
Every year we put up a "Thankful" tree. Beginning November 1, each of the kids has to write one thing they're thankful for on a leaf each day and we add the the leaf to our "shabby chic" tree. I love the phrase, "shabby chic." It means I can tape strips from a paper bag on the wall and call it classy.
Like I said, I just use a paper grocery bag and cut out wavy strips; a thick, long one for the trunk and shorter ones for the branches.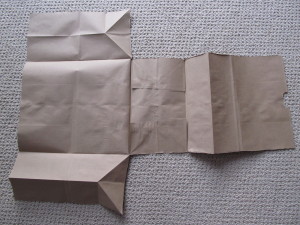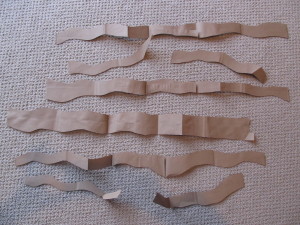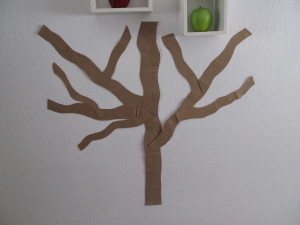 The leaves have changed over the years. They began as construction paper leaves printed on the computer, we've used foam leaves from a craft store, and this year my wonderful friend with a Cricut paper cutter cut us out enough leaves to get us through the month. The point is, use what's most convenient for you.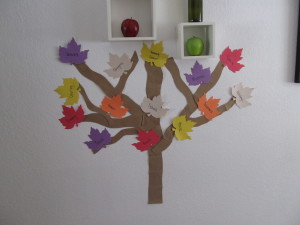 Each night after family dinner, the kids have to write what they're thankful for on a leaf and we tape it up. By Thanksgiving, you have a beautiful tree on your wall full of thankful thoughts.
We promptly rip the tree down at midnight the day after Thanksgiving and go Christmas shopping! JUST KIDDING!