We recently moved into a new house. And while I love the double oven, the big bath tub and the fact that there aren't enough mature trees to allow for a million squirrels to run across my roof at 4:30 a.m. like a herd of cattle, there is one thing about the house I can not stand for. This is the most beige house I've ever seen. The walls, tile, and furniture (before I moved in my bright red couch and flower chairs) are all beige. And while I can add colorful art work and furniture throughout most the house, the kitchen is a tough spot. Between the cabinets, appliances and back splash, there isn't much space for art. Luckily I found one wall that could accommodate a big punch of color. I also wanted it to be fun. The solution; cover huge wooden letters spelling the word EAT in colorful paper and attach them to the wall!!! That was, of course, the most logical way to go.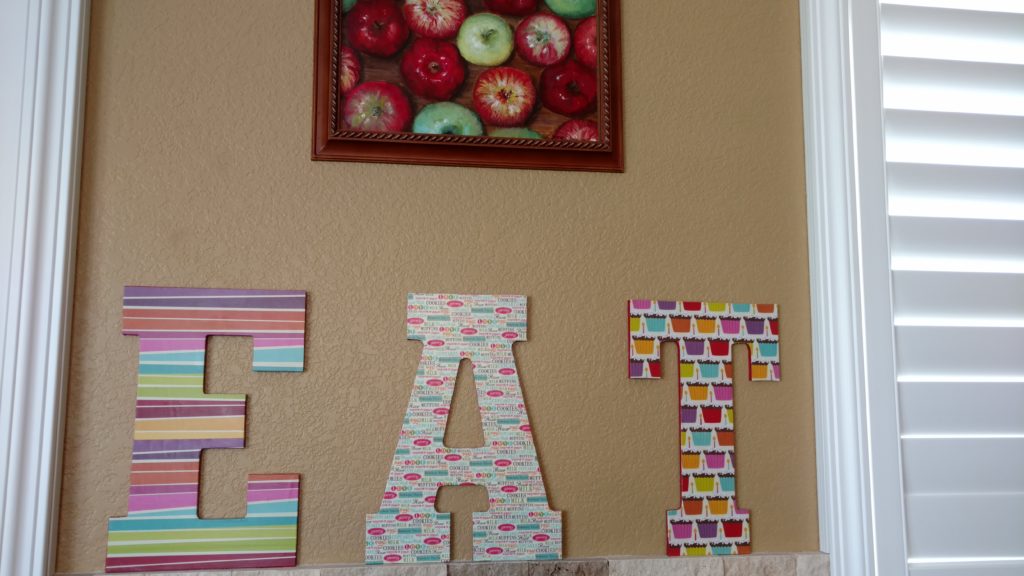 Now, I'm not a crafty person. I've always struggled with cutting strait lines and at 33, I still send any sewing to my mom who lives in a different state. So the fact that I can make these look so fabulous, serves as a testimony to how simple they are to make.
I started by painting the sides and backs of my letters a solid color. This may have been overkill; since nobody will likely see the back of the letters, but my Type A personality insisted I be thorough.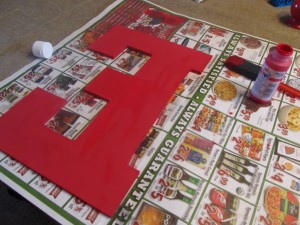 Then I picked some bright scrapbook paper to liven up my kitchen. This was a lot of fun for me since I don't scrapbook. I always feel I'm missing out when I pass the paper isles in craft stores. This day, I got to buy cute paper without committing to scrapbooking.
I traced the letter onto the back of the paper and cut it out. I had to do this twice, because my letters were a bit large and didn't fit on one piece of paper. If this is your problem as well, just get two pieces of paper for each letter and find where they best match.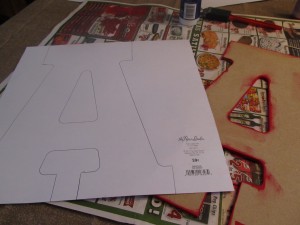 Then I glued the paper to the letter using a craft glue.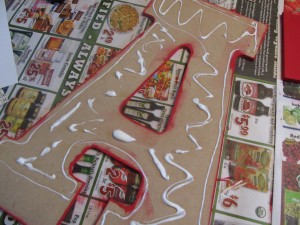 I let that set and then covered the front and sides of each letter with Mod Podge. I put two coats on each letter because I want to be able to wipe them clean when I inevitably splash food across my kitchen.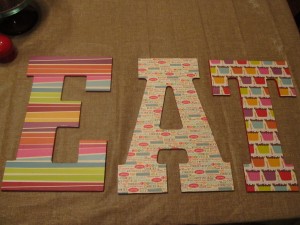 After they dried, I used Commando picture hanging strips to hang them on my wall. I couldn't use standard picture hanging hooks, because my letters are so thin, even the smallest nails would come through the front. And to be honest, I made my husband hang them. I like to think of myself as a capable, independent woman, but I also know my strengths and weaknesses. Hanging art centered and level is not one of my strengths. My husband can attest to this as he had to patch up all the holes from my previous attempts.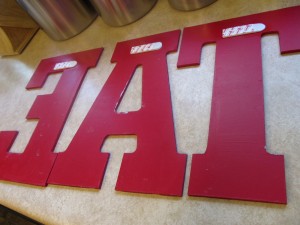 Eventually I will paint some walls red and put in bright kitchen knobs, but for now, this adds enough color to my kitchen to make me feel more at home. If your life is feeling a little too beige, give this a try.