I'm the youngest of three kids. The oldest is my brother. While he was a fabulous big brother (no really, he was) and is still one of my heroes, he was still a big brother and had to mock and tease me without remorse. In fact, now that we're grown, he still feels it is his duty to mock me. It's alright. I can take it.
So when I was a kid, whenever I did something I was particularly proud of and announced it to my family my brother would respond with, "Want a biscuit?" So now whenever anyone in our family tells us something they did, we respond with, "Want a biscuit?"
Hey speaking of biscuits; aren't they delicious!? Yeah they are. A few nights ago we had soup for dinner and I thought "Yes. I DO want a biscuit!" But biscuits aren't that fabulous for you. Because they are so dense, they are really loaded with processed, white flour which doesn't provide any actual nutrients. I took the challenge to make a delicious, healthy biscuit and am happy to say, was very successful.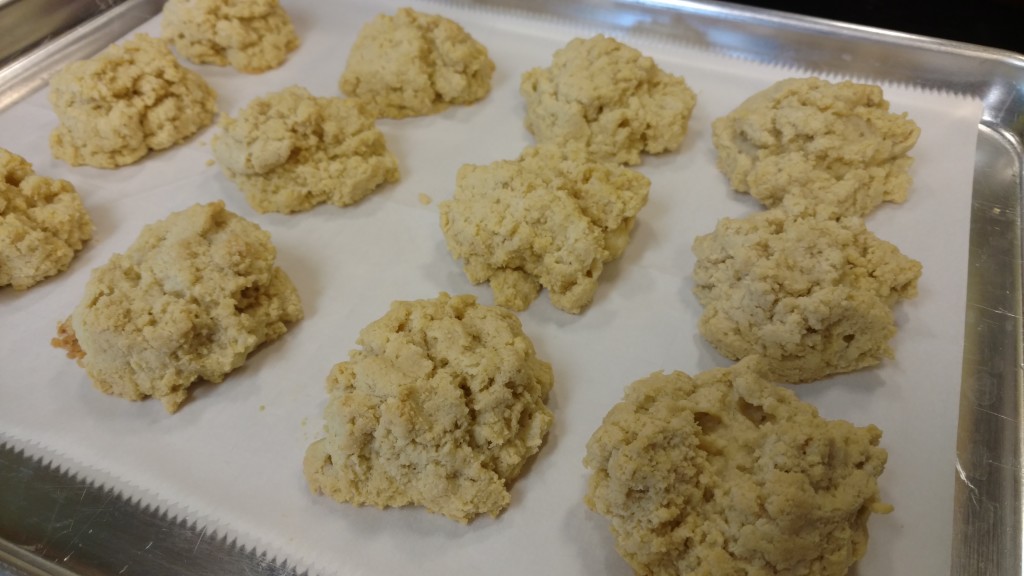 Plus these come together quickly which is great since I usually decide I want bread 20 minutes before dinner.
My mom used to make biscuits by sifting the dry ingredients in a large metal sifter with a turn handle. I take the lazy way out and just whisk everything together.
Then add in some butter. Since the butter has to be cold, I cut it into small cubes before I add it. To cut it in you can use an actual pastry cutter, but I don't have luck with pastry cutters. They seem more like medieval torture devices, so I just stick with smashing the butter in with two forks. For those of you who are wondering, "What in the world is she talking about with 'cutting in?' " All this means is incorporating the butter into the dry ingredients. Rather than softening it and  beating it in like you do with cookies, you want to still see bits of butter. Your dough will look a bit like small pebbles when you finish this step.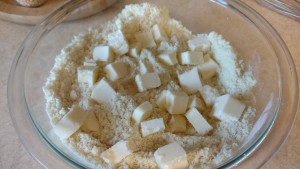 Traditional biscuits don't always call for eggs, but since almond flour has no gluten, you really need the eggs to bind the biscuits together. As far as milk goes, I used almond milk but you can use coconut milk, cashew milk or regular milk or cream. Just use what you have and what works for you.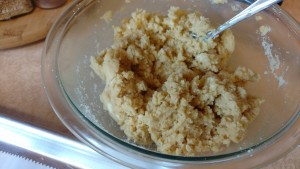 You could roll these out and cut them into nice circles but that's an extra step I'm not willing to take. That seems like far too much effort so I did these "drop biscuit" style. Sorry about the picture. I forgot to take one before I put them in the oven. Thank goodness I'd cleaned my oven earlier that week…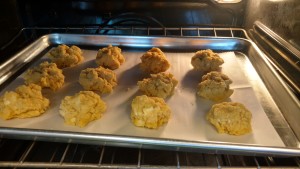 After these cook, you definitely want to let them sit for a bit to cool. This helps them set a little better so they don't crumble.
And now you can have bread with your soup without guilt.
Want a biscuit?

Preheat oven to 350 degrees and line a cookie sheet with parchment paper.

In a large bowl, Whisk together almond flour, baking soda, baking powder and salt.

Cut cold butter into cubes and cut into dry ingredients using a pastry cutter or two forks.

Combine the eggs and milk and whisk together until combined.

Add the eggs and milk to the bowl and mix until everything is combined.

Scoop 12 biscuits onto the prepared sheet. Don't worry about making these look fabulous. Drop biscuits are supposed to look rustic.

Bake for 13-16 minutes or until slightly golden.

Let cool for 15 minutes before serving.