My husband hates most vegetables. I on the other hand, love vegetables. This makes it very hard to cook dinners, especially when I'd like to make them a bit healthier with added veggies. We found a great solution to our problem: beef kabobs.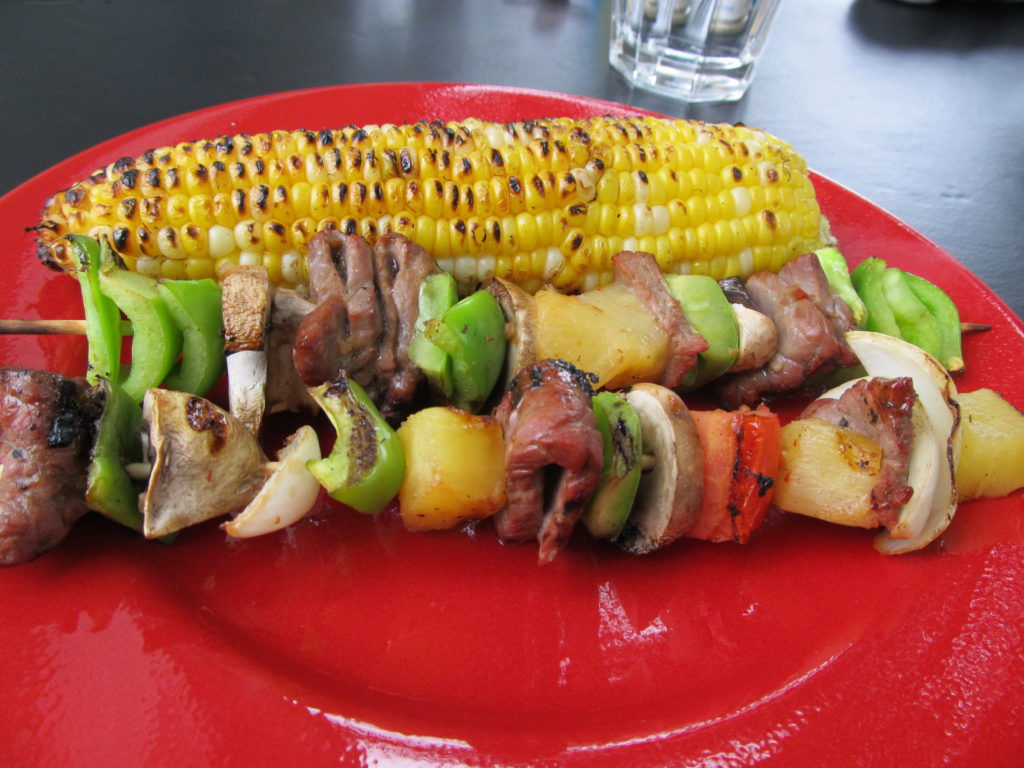 I load mine full of vegetables, and his full of meat.
The first thing to do is pick a meat. I pick whatever is cheapest at the grocery store. I looked at beef stew meat, stir fry beef and flank steak. That day, stir fry beef was cheapest (I used one pound). If steak is on sale, ask the butcher to cut it up into stew meat for you. They always say yes.
I cut the pieces in half so they were about 2 inches long each. I then marinated the meat using the same marinade I use on my Round Steak
Then, I picked the vegetables. I used only tomatoes, onion and beef on my husband's, but loaded mine with tomatoes, onion, mushrooms, green pepper, pineapple and beef. I originally wanted to buy cherry tomatoes, but decided not to when I saw how expensive they were. Good grief! Instead, I halved roma tomatoes and cut each half into quarters. It worked just as well. I then assembled the kabobs on skewers. Soak your skewers for at least half an hour in water before assembling the kabobs. This keeps them from burning and your beef kabobs probably won't taste all that great if they go up in flames.
My wonderful husband grilled them on the barbecue on medium-high for about 10-ish minutes. All grills are a bit different, so grill them until your vegetables are roasted and a bit black on the edges. Roasted vegetables are, in my opinion, the best way to eat vegetables. YUM!
The best part about this dish is how versatile it is. Load it up with whatever you like. I made my husband one kabob that was purely meat. Enjoy your beef kabobs!!