When we moved into our house, we didn't love the kitchen. It was small, bland and outdated. But it was a kitchen with an oven and stove, so I was happy. I knew I wanted to add some personality, but my husband isn't the biggest fan of bright color.
First, I convinced him to help me paint it bright green. Then I made wall hangings out or red, pink and yellow. He didn't love it, but accepted it. I took a break to help him adjust, and then I made him install brightly-colored vintage pulls on the drawers. With each addition I asked him, "Do you like it?" His response was always the same, "No. I think it's hideous, but I really don't care enough to make a big deal about it."
Last week, I decided I needed to add more color to the kitchen. I made this pedestal out of things I found at Goodwill. So far, my husband hasn't mentioned it. Either he doesn't notice, or he's just resigned himself to the fact that for the rest of his life, he'll come home frequently to brightly-colored additions to our home. I for one love my new pedestal.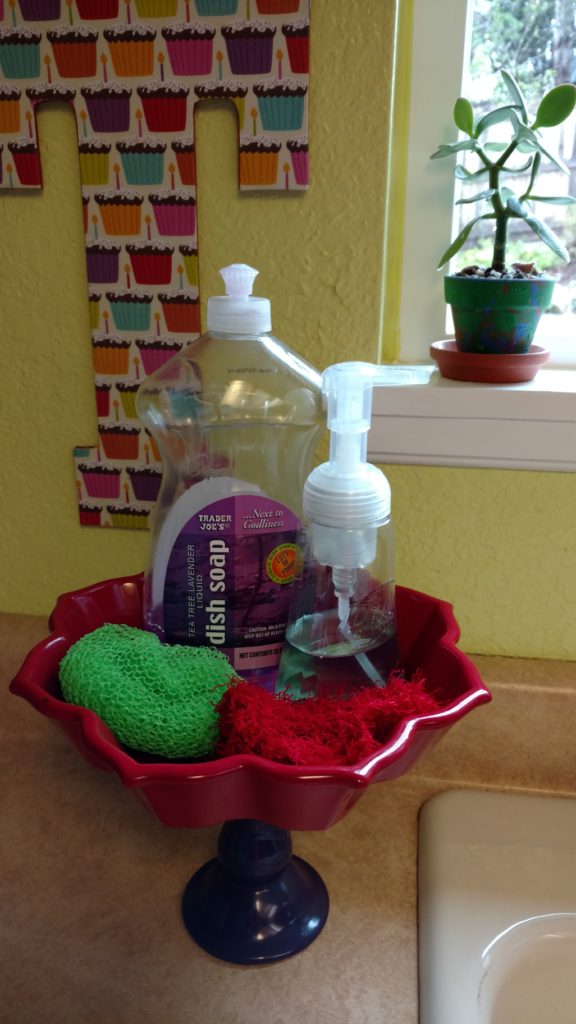 I started with a candlestick and serving dish I found at Goodwill. I was going to use a plate instead of a bowl-like dish originally, but I fell in love with this little red dish. But a fun-colored plate will work just as well.
The candlestick was hideous. Apparently it was too hideous for me to take a picture, but image a cream-colored candlestick with black speckles, adorned with a mauve and mint-green rose motif. Yep. My great-grandma would have loved it. But since the shape was perfect, I decided to go with it.
Before I spray painted it, I roughed it up a bit with some sand-paper, washed it off and sprayed it with a primer.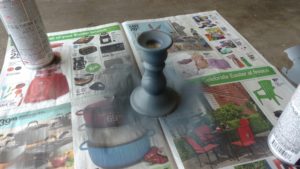 I ended up using one coat of primer and two coats spray paint.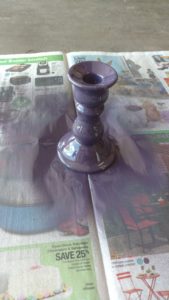 After it dried completely, I glued the candlestick to the bottom of the red dish using glass glue. Make sure you use a glue specifically for glass as it will stay better than something like hot glue.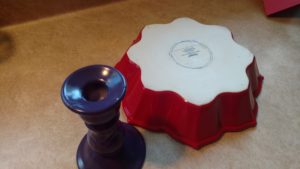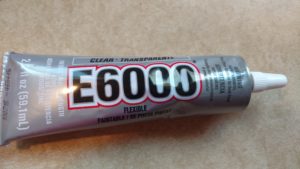 Now I have an adorable pedestal for my kitchen and even more color. My husband is a lucky man.