For years, we've had breakfast for dinner every Friday night. That often meant huge grocery-store muffins, sugar-loaded cinnamon rolls and French toast made with processed bread. Yum… I knew when we switched to a healthy lifestyle, my family would not be okay nixing the Friday-night breakfast tradition. Nor would they accept omelets every Friday. I quickly realized that with a few tweaks I could revamp some of our favorite recipes. That's my favorite part about eating healthy; finding ways to still eat the foods we've always loved but in a healthy way. This German pancake is packed with protein, comes together in just a few minutes and lets us still have our Friday-night breakfast tradition.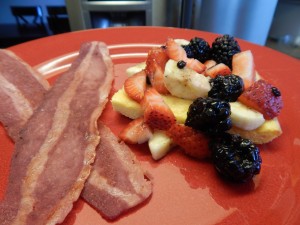 Rather than melting butter in advance, just stick the butter in a 9×13 pan and put in in the oven while it preheats. I always love the chance to cut out a step.
Whisk the eggs and almond milk together. Then add the almond flour and whisk the heck out of everything until it's totally smooth. You can also use an immersion blender or a stand blender to get a really smooth consistency. I just don't like extra dishes, so I stick with the whisk.
Once the butter is melted just pour the batter into the pan and bake it for about 20-25 minutes. You'll know it's done when it's golden brown and puffy in spots.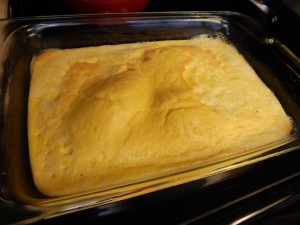 My husband and kids like to eat this with pure maple syrup but you can also use peanut butter or honey. I like to just toss some berries on top and eat it all together. That's a great way to get in some added nutrients.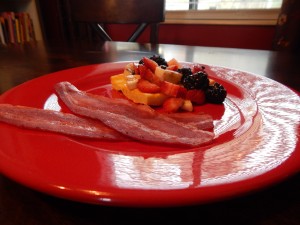 Preheat the oven to 400 degrees

Put the butter into a 9x13 pan and place it in the oven to melt while the oven preheats

Whisk or blend together the eggs and almond milk

Add in the almond flour and blend until completely smooth

Once the butter has melted, pour the batter in the pan and bake 20-25 minutes until golden brown around the edges and puffy