Back in the day (the day of processed sugars), I used to have a reputation for baking. People asked me to make cookies and cupcakes for events and whenever people came for dinner, they were always most excited for dessert. So when I gave up sugar, I was scared to lose that reputation. I still love to make (and eat) yummy treats. I just have to do it with healthier ingredients and eat it in moderation (meaning i can't have an entire pan of brownies myself. Sad day.)
Last Sunday we had friends over for dinner for the first time. I was confident I could make a healthy dinner anyone would like because who doesn't like meat and potatoes? But the dessert had me a little scared. So I decided to combine three different recipes to make one amazing dessert. Everyone was impressed and I still get to experience the joy of watching people eat my treats.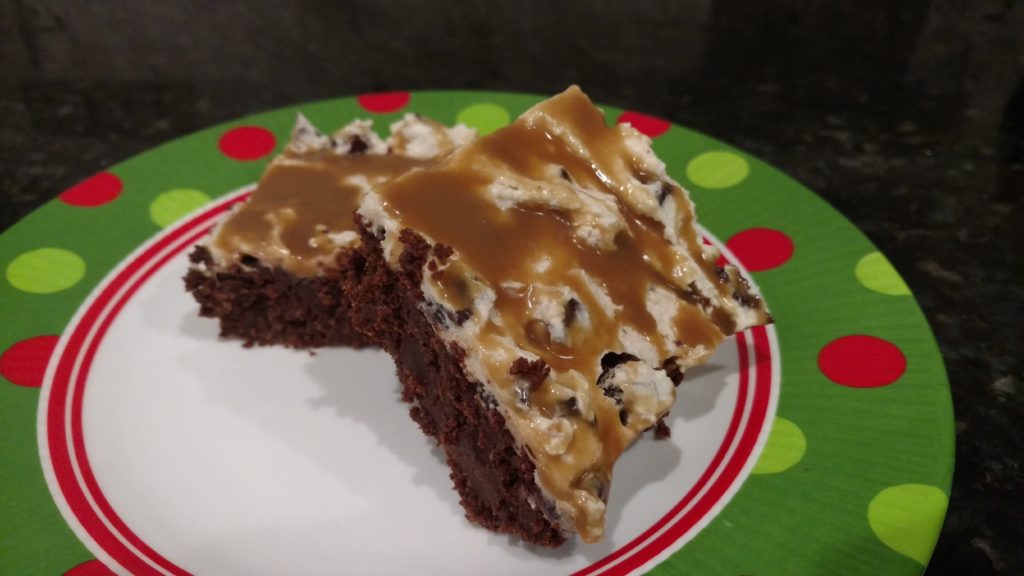 I started out with the Coconut Flour Brownies From Empowered Sustenance.   I added 1/2 a cup of dark chocolate chips to these because…. well I don't think I ever need to give an explanation for adding more chocolate. These brownies are amazing, if you make them right. The first few times I made them, I overcooked them. Check them halfway through baking time and frequently after. If they feel set in the middle, you've overcooked them. Watch the edges and make sure they don't get too dark. These brownies are gooey and soft, unless you overcook them.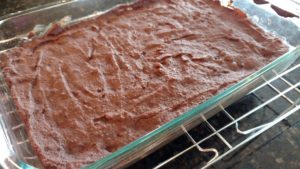 I've topped these brownies with peanut butter frosting and chocolate frosting and mint frosting, but I wanted to do something more fun. I decided to top them with Edible Chocolate Chip Cookie Dough from Wicked Spatula.  When you make this cookie dough, make sure you process it for a long time. If you don't, it won't be fluffy. If you keep it going, the dough turns out fluffy and soft just like regular cookie dough.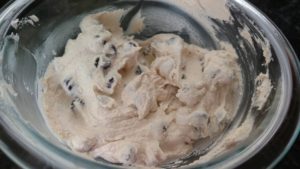 The brownie and the cookie dough would have been plenty, but I wanted something to really send this over the top. I went with Salted Coconut Caramel Sauce from An Edible Mosaic. This sauce was my favorite part of the dessert. This sauce is great over ice cream, brownies or just a spoon. A massive spoon. A ladle really. It's that good. This thickened up really well after a bit in the fridge. And it stayed soft and pourable right out of the refrigerator. I just drizzled this over the top of the cookie dough layer. I have a lot left over. Hmmmm… Maybe this would be great with just a straw too.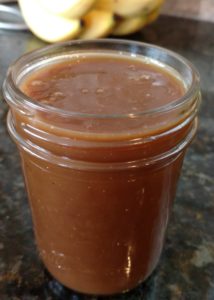 If you're looking for an awesome dessert to wow a crowd, this is definitely it!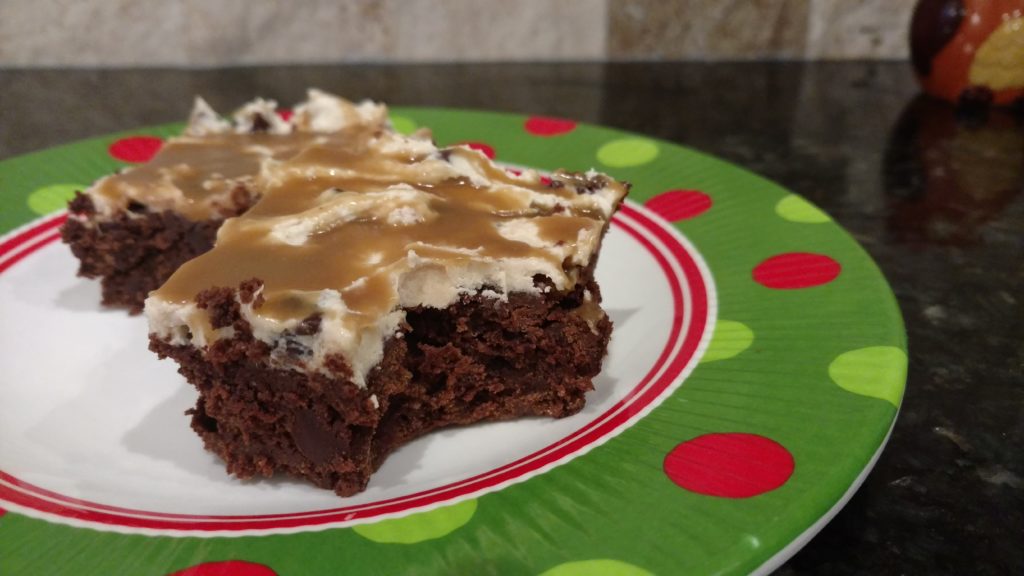 Prepare Coconut Flour Brownies according to recipe but add 1/2 C dark chocolate chips just before adding to pan.

Let brownies cool completely.

Prepare Chocolate Chip Cookie Dough and spread over cooled brownies.

Prepare Salted Coconut Caramel Sauce and let cool and set in fridge.

Once sauce is cool, drizzle over brownies.

Cut brownies into 12 or 16 pieces and serve.