I love stir frys. It's just a fancy way of throwing everything you want in a pan and cooking it together in delicious seasoning. It comes together in one pot, is full of veggies and protein, and can be customized to for every person. Last week, I had some leftover, cubed chicken breast I needed to cook before they went bad. I decided to make a stir fry for lunch.
This was so good! It had that deliciously addictive flavor you get at a Chinese restaurant, but I didn't have to add a ton of sugar. I love those small victories. I've included what I added (completely based on what I had in my fridge), but add what you want/have.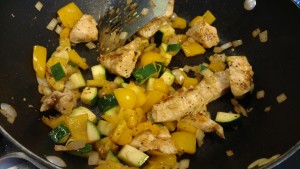 Start by cooking the chicken breasts and then adding the rest of the veggies. Add the sauce at the end and then serve the whole thing over a large bed of spinach. I love putting hot stir fry over a bed of spinach because the spinach welts down a bit but still has a great crunchy texture. This adds some great variety with the cooked veggies.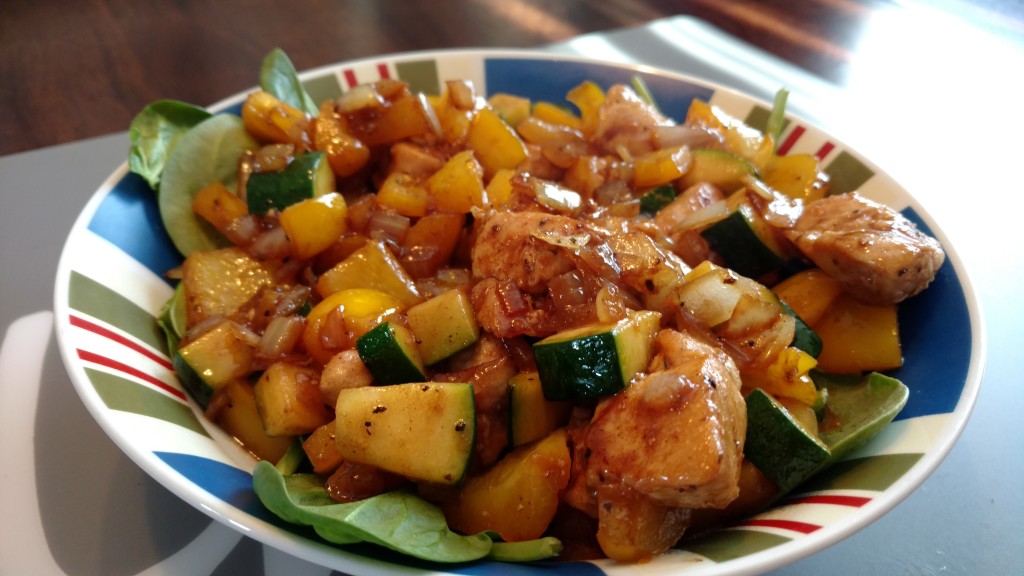 Heat Avocado Oil in large skillet.

Add Chicken breast, salt, pepper and 1/2 tsp ginger and brown on all sides.

Add onion and peppers and cook until onion is transparent.

Add zucchini and garlic and cook another two minutes.

Add sesame oil, coconut aminos, remaining 1/2 tsp ginger and more salt and pepper.

Cook until sauce thickens and serve over spinach.