Growing up, we always had a real tree. Nothing brought the spirit of Christmas into our home as much as that amazing fresh-from-the-forest (or local hardware store Christmas tree lot) pine scent. The smell of pine meant Christmas was coming. Then we got a cat… and a dog. One night, we all woke up to the sound of something crashing in our family room. We came down to see our beautiful, fresh pine tree tipped over and the cat and dog looking very guilty. After that, my mom's mom paranoia set in. She was convinced we'd be gone one day, the animals would knock over the tree, bulbs would break and the entire house would erupt in flames. That was the last year we had a real tree. You'd think as an adult, I'd go back to a real tree, but my mom's paranoia set in and to save our home from the flames that will surely follow if we got a real tree, we opt for a fake one as well. No amount of pine air-freshener can make up for the scent of a real tree. Oh well. At least my house isn't a pile of ashes. Right.
Speaking of Christmas scents, these ornaments pack the house with amazing Christmas smells. No, they aren't pine-fresh, but the cinnamon almost makes up for it. We make these ornaments every year. They are super easy to make and something the entire family can get involved in. Plus, they satisfy my need to make Christmas cookies without having said cookies in the house. We save some for our tree, attach some to tins of goodies for neighbors, use them as napkin rings and use some in place of bows on Christmas presents. We always make some in the shape of Mickey Mouse's head because we're big into Disneyland in our house.
To make:
Combine 3/4 C applesauce and 1 (4.12 ounce) bottle cinnamon.
Mix and kneed well. This takes some doing and your hands will be covered in cinnamon. Trust me. It's worth it.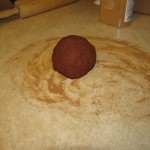 Roll out the dough using a rolling pin or by patting it with your hands. This is a great way to get kids involved. The dough is stiff enough that they can't destroy it.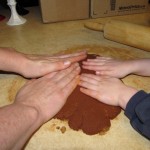 Use Christmas cookie cutters to cut out shapes. This is another great job for the kids. My kids love picking which shapes to use and actually getting to cut out the dough.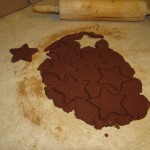 Use a skewer to drill a hole for a ribbon in the top of the ornament.
Set the shapes on wax paper and let them dry for two or three days, turning them over after each 24 hours. You can also bake them on a cookie sheet lined with parchment paper at 200 degrees (still flipping over until they're set if you need to clear the counter sooner.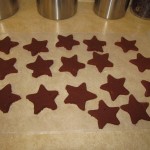 Add a ribbon and hang them on your tree, give them as gifts or use them on you Christmas table. Whatever you do with them, they make everything smell amazing!