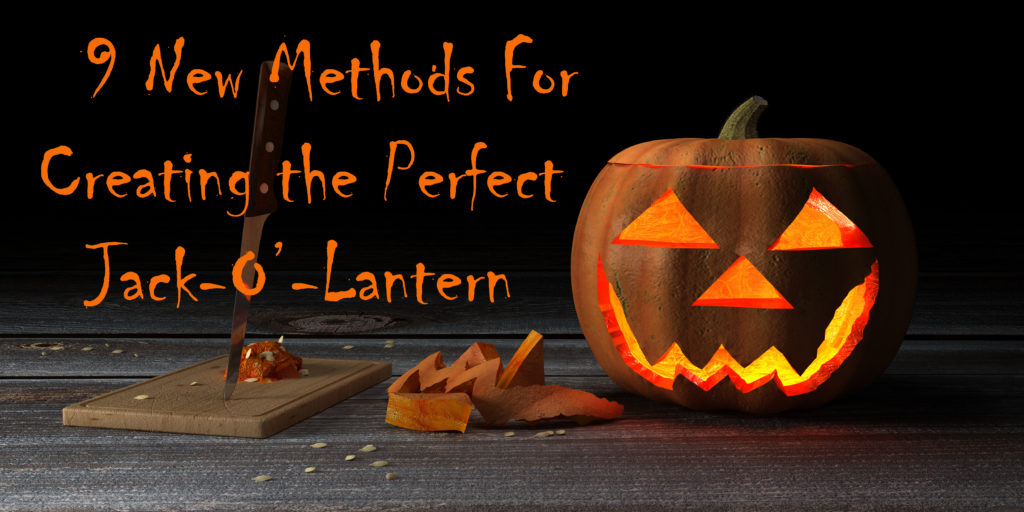 It's almost Halloween! I love having kids so I don't have to make up reasons to act like I'm 7 on Halloween. Though when my kids move out, I still expect my husband to haul up the box of Halloween decorations (We keep them in the crawl space with the spiders and there's no way I'm getting those myself) and watch It's the Great Pumpkin, Charlie Brown while we hand out candy. And yes, I will still make him dress up with me.
The point is, Halloween rocks no matter what age you are. Every year, we have a great time with our pumpkins. We got to a local garden store and go through their hay bale maze and buy pumpkins. We usually get a huge one, a medium one and a small one. We spend way more time than is probably socially acceptable deciding what to carve in our pumpkins. Pinterest, that's where you come in. So in honor of this awesome holiday, I thought we'd look at some fabulous pumpkins and check out some methods you may have not thought of for creating the perfect jack-o'-lantern.
Going beyond carving triangle eyes with a knife:
Not that I mind carving triangle eyes with a knife. In fact, we always do one traditional jack-o'-lantern. But these ideas are amazing and definitely worth considering:
Glow in the Dark Pumpkins:
I love this idea from "The Blog of I Love to Create." The paint is bright enough that these pumpkins look great during the day but are wicked awesome at night. Click here for the full tutorial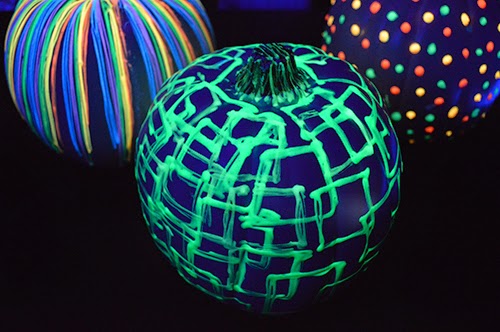 Drilled Pumpkins
This idea from Crafty Nest is so beautiful! If you're one of those classy people who likes things to look like a magazine cover, this is perfect for you. If you're a mom that is tired of having peanut butter smeared all over your walls and need a little beauty in your life, this is for you. Click here for the full tutorial.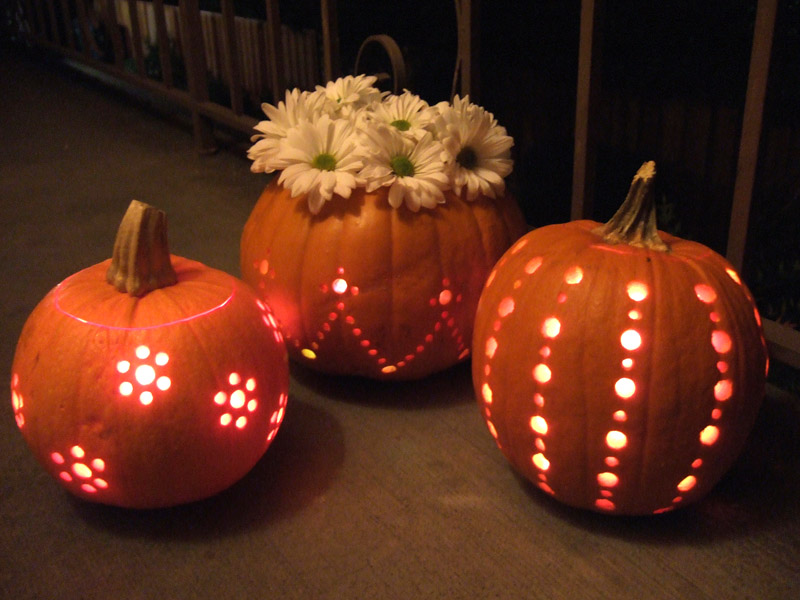 Dry Ice in a Pumpkin
GENIUS! In fact, I'm sad I didn't come up with this idea. We've all used the dry ice for the witch's potion; but in a pumpkin?! I love it! Thanks Buzz Feed!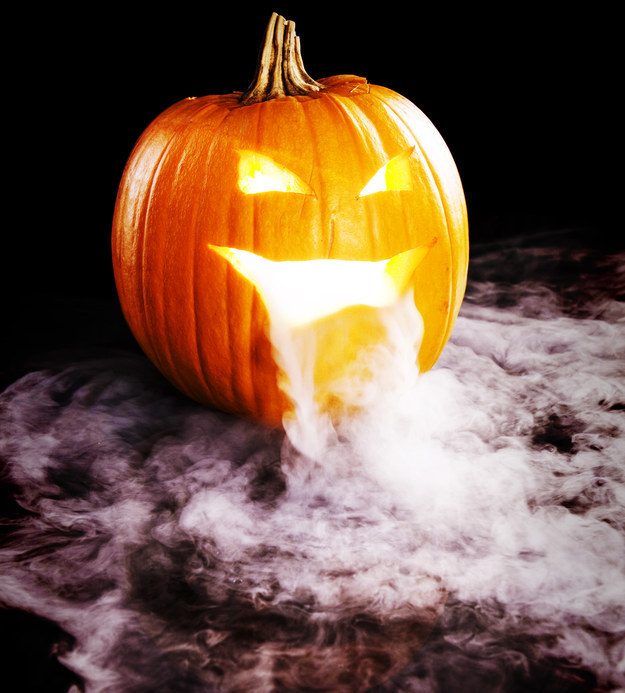 Glitter Pumpkins!
Halloween is a sparkly holiday, right? So it makes sense to add a little glitter. These glitter pumpkins from Project Nursery are beautiful. I may have to make one. There's only one thing my husband hates more than glitter. Hmmm… Nope. There's nothing he hates more than glitter. Click here for the full tutorial.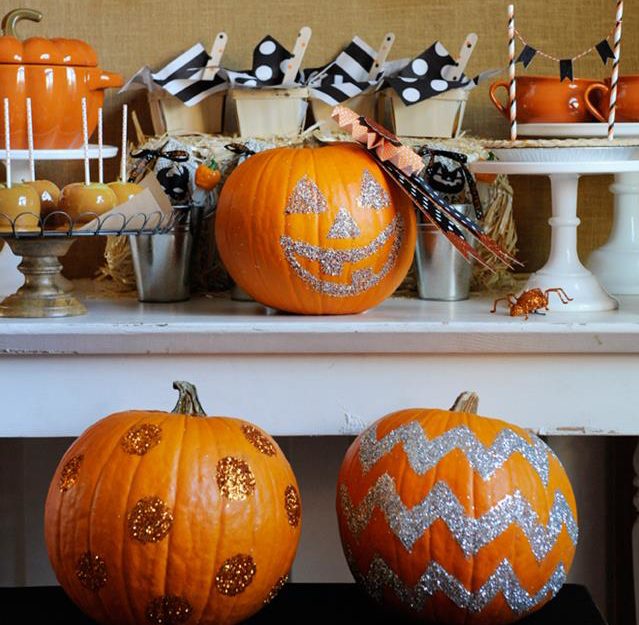 Marbled Pumpkins
Sometimes I see ideas and think, "How did anyone even think of that?" It's not something I totally understand, but I'm very grateful those people are in our world. This is one of those ideas. I love the colors of these pumpkins but never would have had the genius to figure it out for myself. So I thank Mom Dot for being a genius where I am not. Click here for the full tutorial.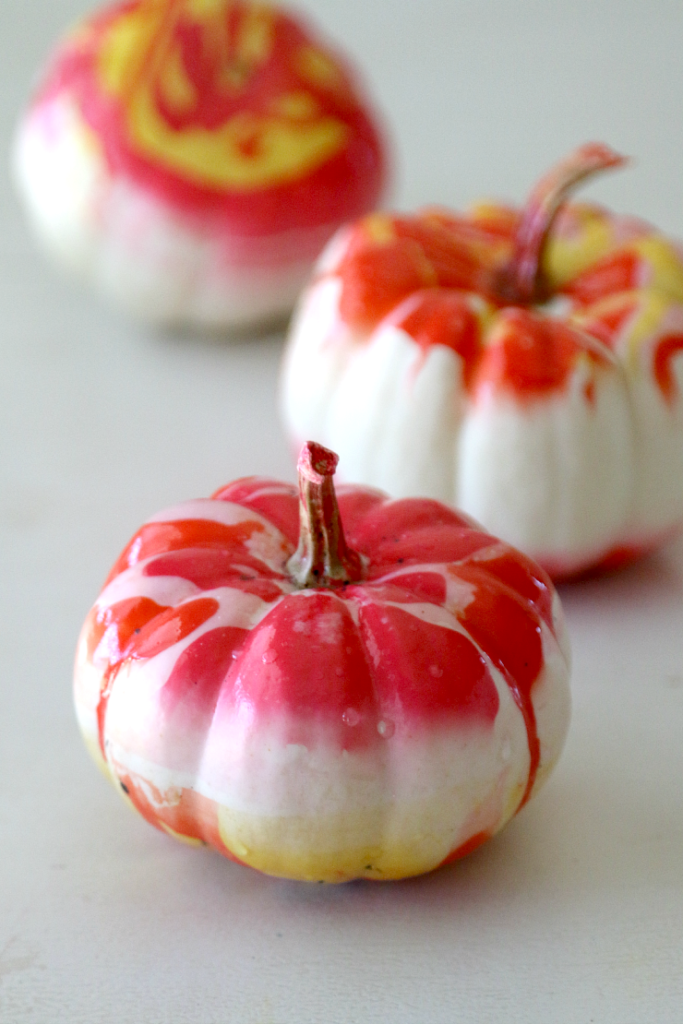 Pumpkin Lantern Walkway
I love this photo from Inspiration Lane. If you have one of those huge walk-ways, this would look fabulous!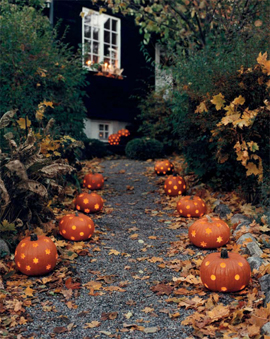 Use a Cookie Cutter to Make a Shape
This is a great idea for those of us who are artistically challenged. Along with the great cookie cutter idea, Refinery 29 has some great tips to make your pumpkin carving go well. Click here for Refinery 29's cookie cutter tutorial plus more pumpkin carving tips.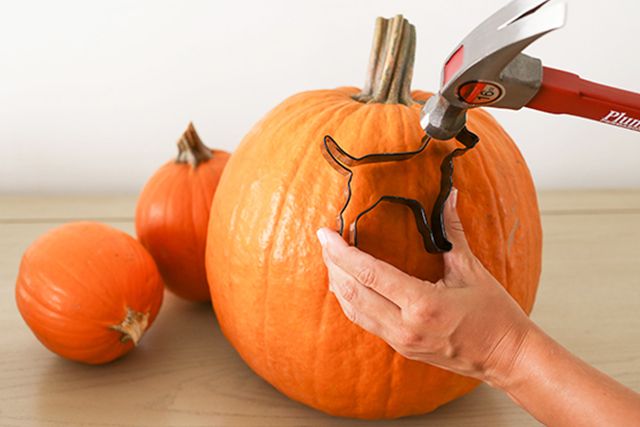 Tissue Paper Pumpkins
Having grown up in the 80's and 90's, I covered a lot of things in tissue paper. But I never thought to cover a pumpkin! I love the colors and the texture on these guys. Plus, this is a great idea for kids who want to make a pumpkin but may not be old enough to paint something that looks like more than a blob, or aren't old enough to use a giant knife to slice into a pumpkin. These are supposed to look abstract, so it's perfect! Click here for the complete tutorial from Stay at Home Educator.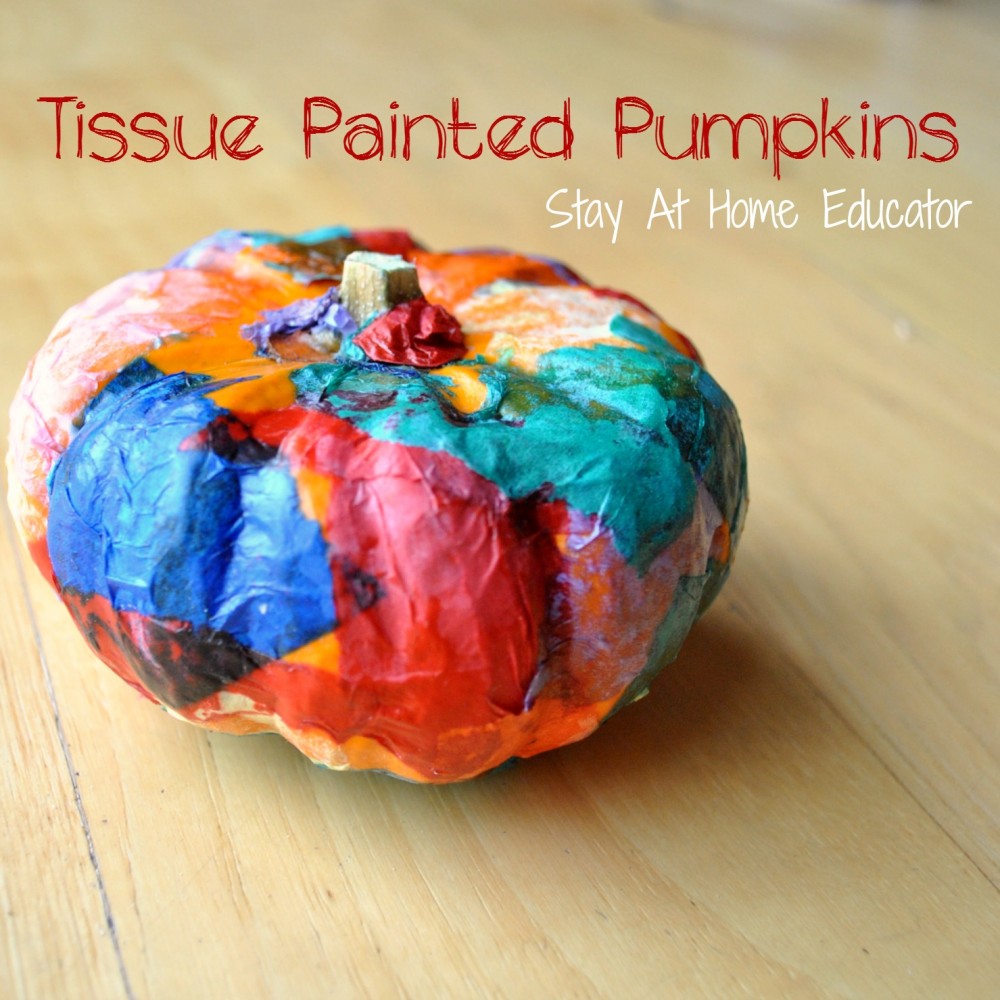 Melted Crayon Pumpkin
I've seen those awesome melted crayon signs for teachers, but this looks fabulous on a pumpkin! You could customize it with whatever colors you want and use a white or orange pumpkin. Click here to check out Mom Spark's complete tutorial.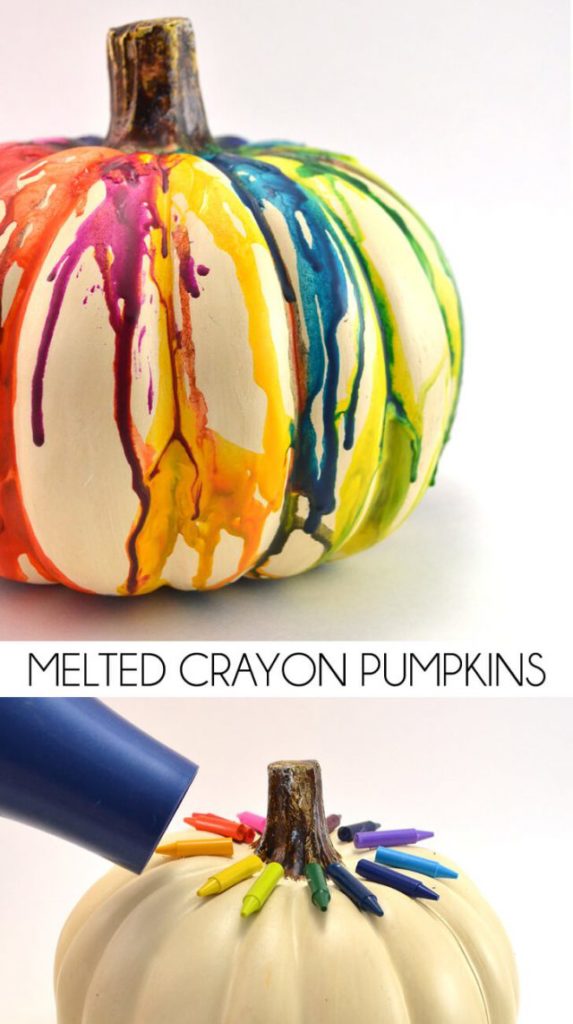 I Want That in My House
Now that I've shown you some awesome methods for making a pumpkin, let's look at some pumpkins I think are awesome. If you don't think they're awesome, start a blog and you can post the pumpkins you think are awesome.
First, here are ours from last year.
Harry Potter, a cat and the traditional pumpkin. We always let one of our kids draw a face and then we cut it out.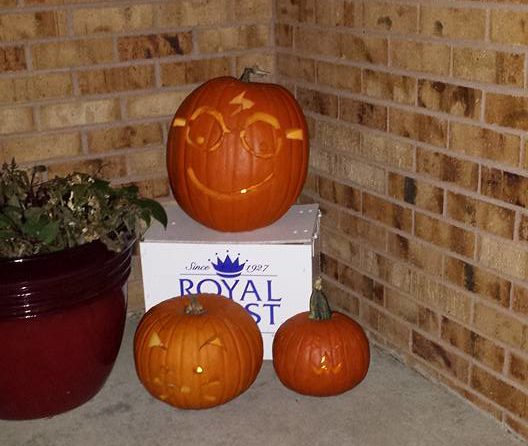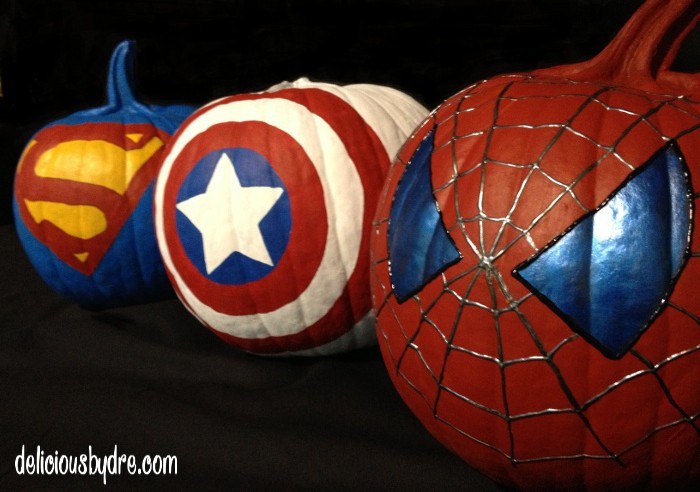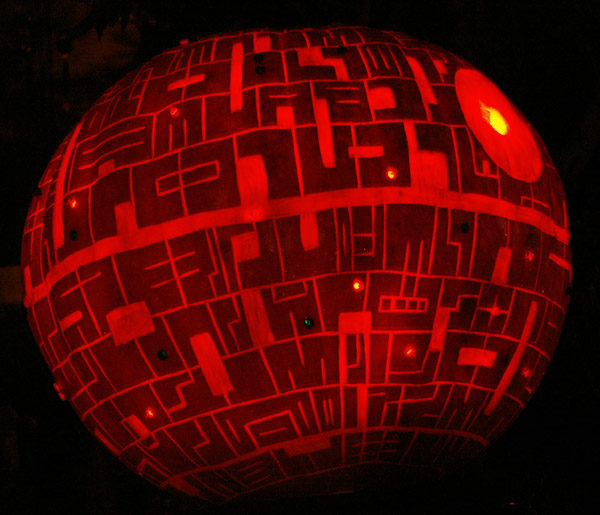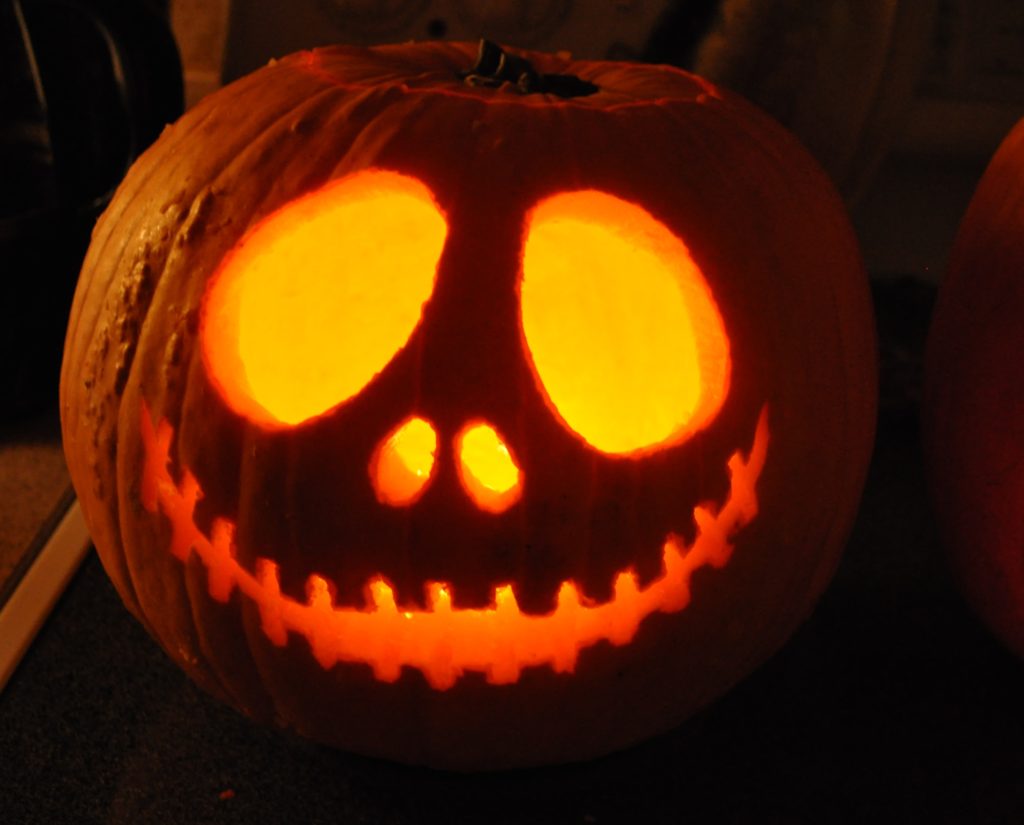 Mickey Mouse Pumpkin from All Ears blogger Kristin Ford (Click here for link)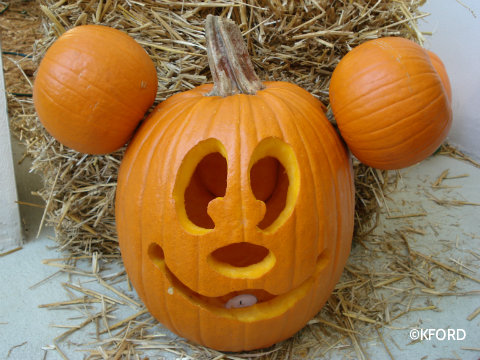 Snoopy WWI Flying Ace Pumpkin
This may be my favorite and sadly, I don't know who to give credit to. I found the image via Google and Pinterest, but can't find the page it links to.