Easter is one of my favorite times of year. It's the first real celebration since Christmas and it's the start of warm weather and playing outside. It's like a new beginning. I especially love Easter because of what it represents. We are a Christian family, so this is a special time of year for us. We spend a lot of time trying to teach our kids the importance of Easter to us, but this can be difficult when we walk in to Target and see stuffed bunnies, bright eggs and marshmallow chicks. While we are still big fans of the non-religious Easter activities, it's important to us our children understand the most important part of Easter.
A few years ago we made this Easter Advent. On the back of each of the 7 eggs is a part of the Easter story from the Bible. The kids get excited to read the egg every night after dinner the week before Easter.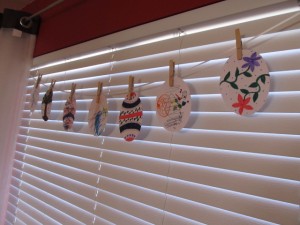 I started by taking what I think are the most important parts of the Easter story from the New Testament and broke them into seven parts. I listed the verses and then wrote a small explanation, because the Bible may be a bit confusing for small children… and sometimes 30-somethings.
Then I printed seven egg shapes by using the "oval" shape in Word and printed them on card stock. Click here to download the file.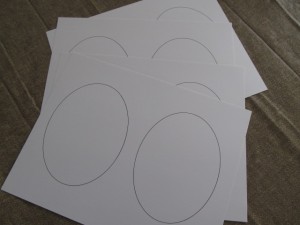 Now for my kids' favorite part. We each got to decorate the eggs. This was a big hit. Here are our seven eggs, complete with a solar system egg courtesy of my five-year-old.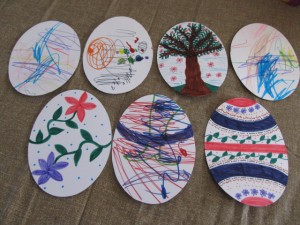 Now I printed the Easter story on regular paper (I had to suck in the margins quite a bit and make the print small enough to fit on the eggs). Click here to download the file.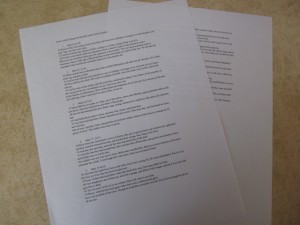 Next, I cut the story into the seven sections.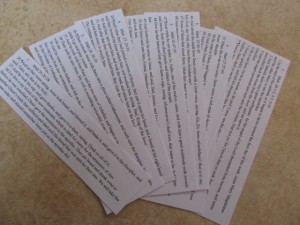 Using a glue stick, I glued the story pieces onto the back of the decorated eggs.
We decided to hang our eggs across the window, but you could stick them on the wall with sticky tacky, or attach them to a ribbon on the wall. I used a small white ribbon attached to the wall using thumb tacks.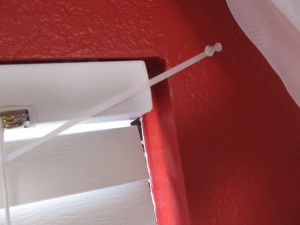 Last of all, I hung the eggs on the string using clothes pins.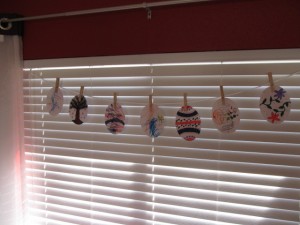 These lovely eggs decorate our home until one week before Easter.
Beginning the Monday before Easter, we read an egg every night at dinner. This helps my kids focus on the true purpose of Easter throughout the week and not just on Easter Sunday. Also, breaking the story into seven parts helps them understand it better.