I'm officially insane. Every time I try to simplify my life, I find something fabulous I need to add to it. My son has been taking piano lessons for three years. Plus he goes to karate twice a week and has cub scouts once a week. My daughter is in ballet and tap. Every Sunday I sit on my porch swing and think about how nice it is to relax and how we need to get rid of some activities in our lives. So what did I do last week? I signed my daughter up for piano as well. What's worse is that it was my idea. She was content with ballet and tap but then I opened my big mouth and asked her if she wanted to take piano. She was thrilled! She's been "practicing" every day since. The good mom in me is really excited for her. Learning music is important and she'll love it. But the other side of the good mom is not so happy. I've added one more thing to our lives. Sigh. Oh well. It will all work out in the end. Or else I'll die of exhaustion. Guess I won't know until I try, right?
So for all you other insane moms out there who are also stretched beyond your limits, I have yet another slow cooker recipe for you. I believe the slow cooker was the best invention since 2-ply toilet paper. Some days, it's the only way we have a warm meal on the table at dinner time. I can throw everything together in the morning and then come home from ballet or piano or karate or cub scouts or the therapy sessions I should sign myself up for and still be able to give my family a delicious, healthy dinner.
This salsa beef meets all the criteria of comfort food. It's packed with flavor, tender and super healthy.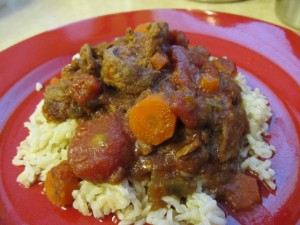 This is another fabulous dump and go recipe. While that doesn't sound glamorous, it's way better than a bowl of cereal, which is plan B on busy days. Just pull out the slow cooker and add stew meat, carrots, stewed tomatoes, salsa, molasses and garlic. Then let all the flavors meld together. Mmmmmm. A word about salsa. You have to be careful when picking salsa. A lot has added sugar, but it's still easy to find one that does not if you're willing to read labels.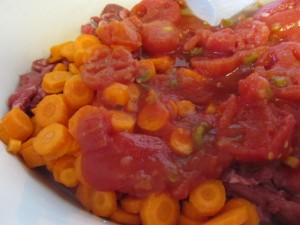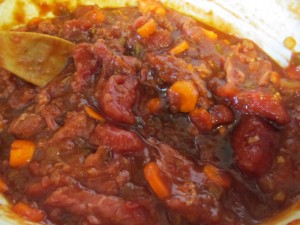 Stir this together and cook the entire thing on low for 6-8 hours.
My husband eats this over rice, but my daughter and I like it over mashed sweet potatoes. Either way, you can congratulate yourself at the end of the day for preparing a delicious, healthy dinner for your family even though you spend your days as a taxi driver.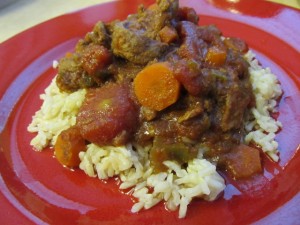 Coat the inside of a slow cooker with nonstick spray.

Add all ingredients to slow cooker.

Cook on low for 6-8 hours.

Serve over rice or mashed sweet potatoes