Every year we try to grow basil. I have dreams of jars and jars of homemade pesto and Caprese salad. I plan to spend the summer sprinkling basil on everything. I'll look like the cover of a magazine, smiling as I harvest my basil surrounded by my perfectly dressed children who never fight and always obey me.  Sadly, I generally kill everything I plant. Luckily, jarred pesto is getting healthier and tastier than it once was.
I love to use pesto for salad dressing, veggie dip, mixed with mayonnaise for a spread and a topping for chicken. This pesto chicken is one of my favorite uses for pesto. And it comes together in the slow cooker, which just makes life better in general.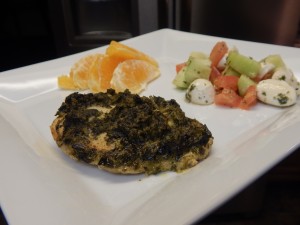 Just drizzles avocado oil in the bottom of your slow cooker, top with chicken breasts and top each breast with jarred pesto and cook on low 4-6 hours. It's hard to think of a recipe that's easier.
The oil keeps the chicken moist and cooking it slowly allows the pesto to really penetrate into the chicken and give it lots of flavor. Maybe one day I'll make this with my pesto made with home-grown basil. Then when I serve it to company and they "ooh" and "aah," I can tell them I grew the basil myself and act like it's no big deal. Yeah. I want to be that person.

Drizzle avocado oil in the bottom of a slow cooker and top with chicken breasts.

Top each breast with 2 Tbsp prepared pesto.

Cook on low for 4-6 hours.