When I was 8-years-old, I submitted my picture to a children's Christian magazine along with interesting facts about me. Many of the other kids included facts like "I love to go camping with my family," or "I won the third-grade science fair." My interesting fact was, "My favorite food is steak." Needless to say, my profile wasn't as interesting a read as the others, but I still hold to what I said. I love steak! And this is my favorite way to make it. Plus, it's extremely easy and healthy.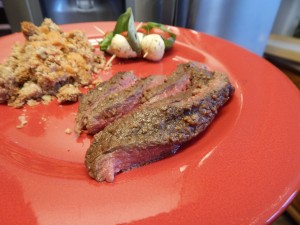 Start by making a simple marinade. Because I don't want to dirty more dishes than necessary, I mix the marinade in a gallon-size Ziploc bag. In the bag, combine the coconut aminos, Worcestershire sauce, balsamic vinegar, orange zest and garlic. If you haven't tried coconut aminos yet, you should. It's basically a healthier version of soy sauce.
Add the round steak to the bag and marinate for at least four hours.
Now cook it on the grill. We cook it for about 5 minutes on one side and six minutes on the other for rare. I personally don't know any way to eat steak other than rare.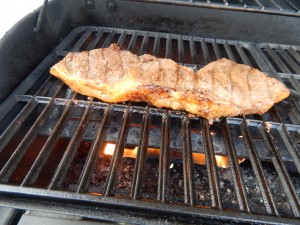 Let the steak rest for about eight minutes and then slice diagonally. This is a fabulous recipe because you don't need to add any kind of steak sauce. The marinade makes it perfect just as it is.