This summer, we opted to go on several mini-vacations rather than one big trip. We visited family, visited the lake and visited the mountains. This opened the door to a lot of spending and eating foods we wouldn't normally allow. While it's fun to get ice cream or fudge (my personal favorite vacation splurge) on trips, there are some things you can do to keep your family eating healthy without spending a ton.
First off, plan to bring a big cooler. We decided early on we'd eat breakfast in hotels and have picnic lunches. This meant we had to bring the food with us. We also requested hotel rooms with refrigerators to store our food overnight and re-freeze our ice packs. If you don't have the space for a big cooler, you can shop for each day, which we've done as well. Just plan to go to grocery stores for breakfast and lunch rather than restaurants. Try to bring a small tote cooler you can pack around for the day. We also brought enough plastic flatware to get us through the week.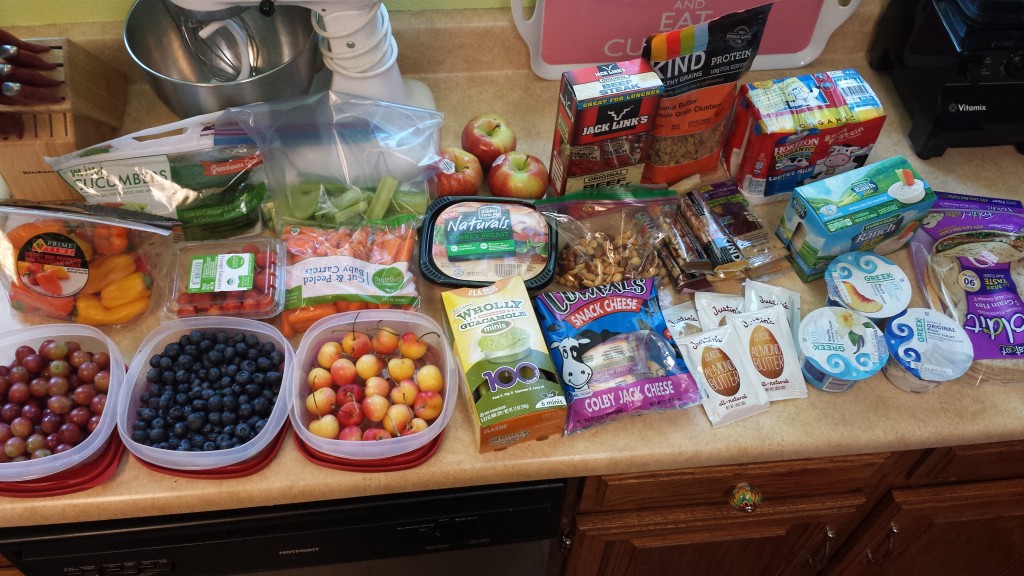 Breakfast: Breakfast was basically the same each day. We packed granola, yogurt and fruit. We like the Kind Peanut-butter granola. It has a flavor we all like, doesn't have ingredients that made me cringe, and is lower in sugar than the other packaged granolas. If you have the time, consider making your own granola and bringing it in a large, plastic zipper bag. We paired our granola with individual cups of yogurt, which we stirred together to save on dishes. We served this with sides of blueberries, cherries and grapes. These fruits travel well in air-tight containers.
Lunch: We did salads and sandwiches each day for lunch. Rather than bring a loaf of bread, We brought flatbread, which packs easily. These Flat-Out Fold-It breads are our favorite. Again, after reading several labels, these seem to be the healthiest and tastiest for my family. We brought indidual packets of peanut butter for sandwiches, and also lunch meat, cheese and lettuce for variety. Rather than pack in mayonaise, we opted for individual packets of ranch dressing and guacamole. Not only can this work as sandwich spread but made a dip for the veggies we brought to eat with lunches, which included baby carrots, celery sticks, snack peppers, grape tomatoes and small cucumbers. We also packed in the fruit we didn't eat for breakfast, plus some apples. We made sure to have reusable water bottles but also packed shelf-stable, organic milk boxes for the kids.
Snacks: No matter how healthy we eat, there is something about being on vacation that makes us think we're always hungry. This can get expensive and unhealthy really fast. Rather than snack on pastries all day, we kept some non-perishable snacks in the car. This included, Kind Granola Bars (these things are delicious and super low in sugar), jerky, fruit leather, mixed nuts and the fruit and veggies left over from breakfast/lunch.
Eating out: Because we didn't want to spend our trip cooking, we did opt to eat out for dinner. We just tried to make smart choices about the restaurants and menu items we chose. Steak houses are always a great bet. They generally have salads, fish and grilled proteins. Plus they're more likely to be able to take specific requests. If you go to a place with a salad bar, they'll often let you order a grilled chicken breast or steak on the side.
Splurges: Like I said, I'm all for having treats on vacation, just make sure not to get out of control. We often have ice cream one night and fudge another night. Last week we took an amazing trip to Washington and splurged on some famous pastries from a small shop in Seattle. The point is to set rules and stick to them. We plan on one treat a day and no more.
Have a great, healthy vacation!
Vacation shopping list (this will of course vary based on your family needs, length of trip, etc, but this is what worked for our family of four for a four day trip)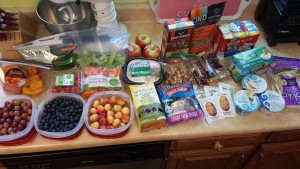 Individual Yogurt Cups
A Big Bag of Granola
Grapes
Blueberries
Cherries
Flat Bread
Peanut Butter Packs
Lunch Meat
Washed Lettuce (tear into individual leaves and pack in a large zipper bag with a paper towel in the bottom)
Cheese Slices
Celery Sticks
Baby Carrots
Snack Peppers
Small Cucumbers
Cherry or Grape Tomatoes
Individual Ranch Dressing Cups
Individual Guacamole Cups
Apples
Boxed Milk
Granola Bars
Fruit Leather
Mixed Nuts
Jerky
Plastic Sandwich Bags
Plastic Forks, Spoons and Knives
Napkins